Jeans for Short Guys - The Complete Guide to Our Collection
The Complete Guide To
Jeans For Short Men
Taking a closer look at our jeans for short men and why our sizes are going to fit you perfectly!
---
Everyone loves jeans. They're comfortable, reliable, and look good with almost anything you pair them with. If you're a short guy, you love jeans even more - because they're that much harder to find in sizes that actually fit you! If you're lucky enough to have jeans that fit a shorter guy, there's a good chance you've either taken them to the tailor, which is both time consuming and expensive.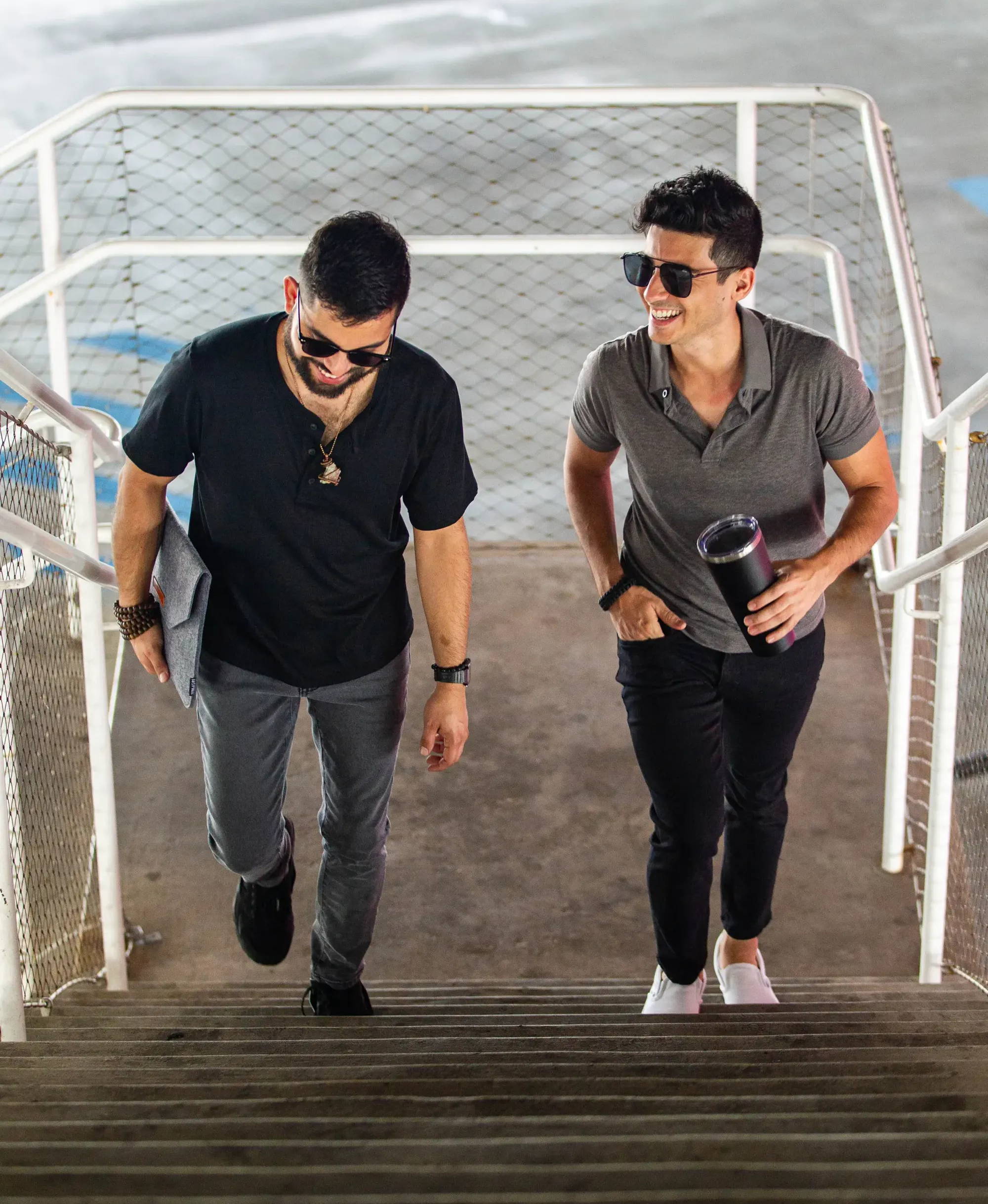 We're here to make sure that from now on, you can effortlessly shop jeans that look and feel great. But more importantly we're here to save you time and money while making your shopping experience a whole lot more convenient. Our goal is to make Under 510 a one-stop shop for shorter guys that need a great pair of jeans.
Jeans are made of a tough and durable fabric known as denim. But in today's world of fashion, denim comes in a variation of different compositions (the fibers that make up the fabric). Each unique denim fabric has properties that make it special and we've chosen the best of the best for our collection of jeans. We'll get into our jeans and help you find your perfect pair later in this article.
We'll also share what makes our jeans the best fitting jeans for shorter guys and tell you how to find out which size will work best for you. We'll even throw in a size chart so you can make sure we carry your preferred size combination.
---
Our collection of jeans for short men:
Our best-selling Bruce jean is a classically textured jean with smart, modern updates.
The Bruce jean looks a lot like jeans you're used to; it has a slubby heathered texture due to the mix of colored and undyed yarns in the fabric. This results in a casual look and makes the Bruce easy to dress down on the weekends. However, instead of traditional rivets (those pointy, metal "buttons" used at the seams) and stitching, we use black, flat metal buttons and dark stitching that matches the color of the jeans. By doing so, the Bruce becomes a lot easier to dress up for date night, with a button down shirt and a pair of loafers. The Bruce comes in blue, black, and gray. Each looks very similar aside from the color, and each has great stretch content that varies by color. Overall, the Bruce has a very classic jeans look with the essential modern day addition of stretch.
While the black and gray are both fantastic options, the blue is a bit special because it's actually made from genuine Cone denim! Cone denim originates from Cone Mills, a legendary denim fabric manufacturer that dates back to 1891 and makes the best denim in the world. We use their new stretch denim that contains 93% cotton and 7% stretch that makes these incredibly comfortable and flexible (trust us, that 7% stretch makes a huge difference). On top of that, the indigo color used by Cone Denim comes in an incredibly rich hue that fades beautifully over time. Check out this photo comparing a new pair to one that's 10 months old - it shows unique depth in color that reflects how hard you wear your jeans. We DO NOT recommend going easy on them! As far as sizing goes, they run true to size on the waist and inseam length and feature our standard slim-tapered fit that makes shorter guys look leaner and taller.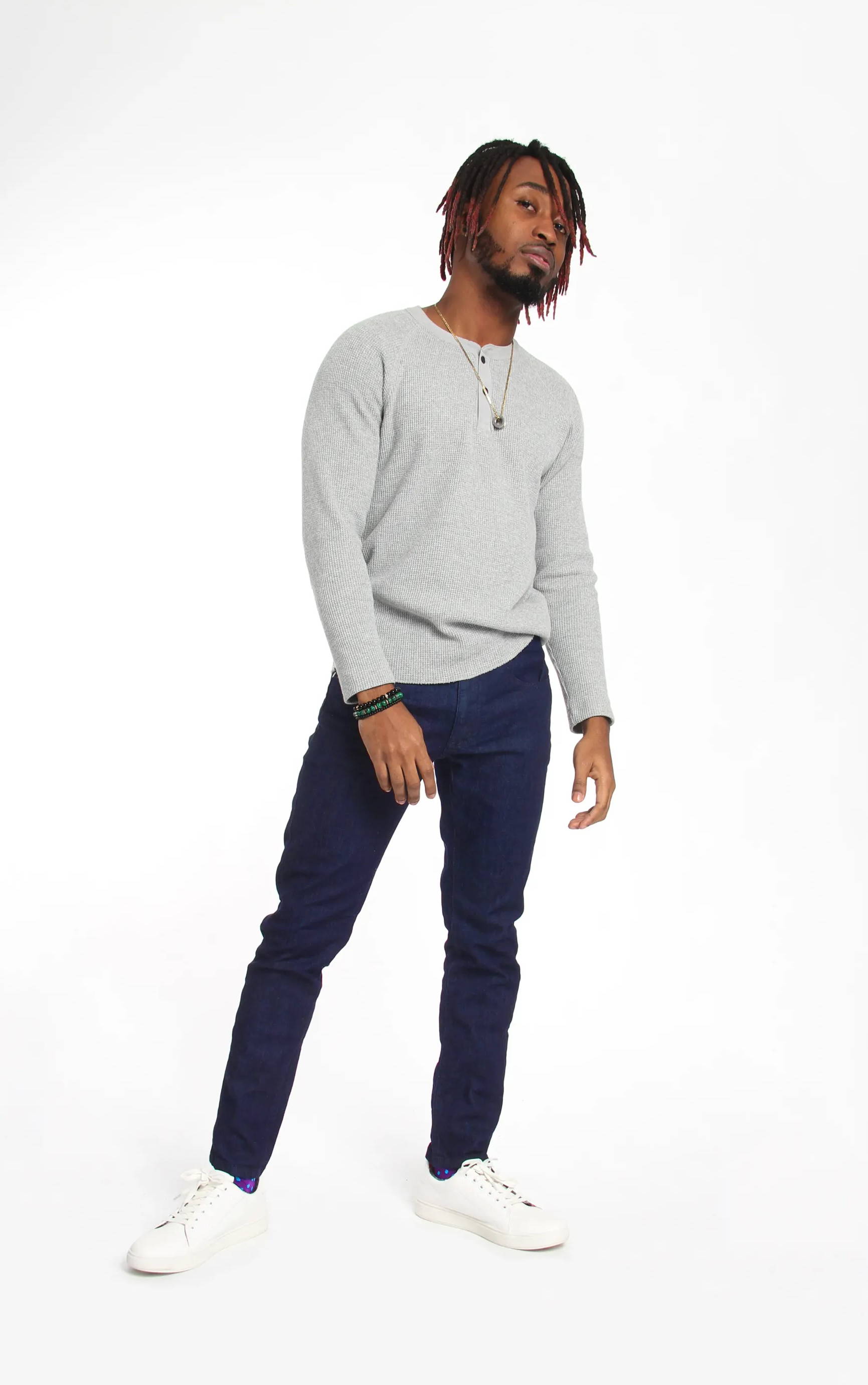 ---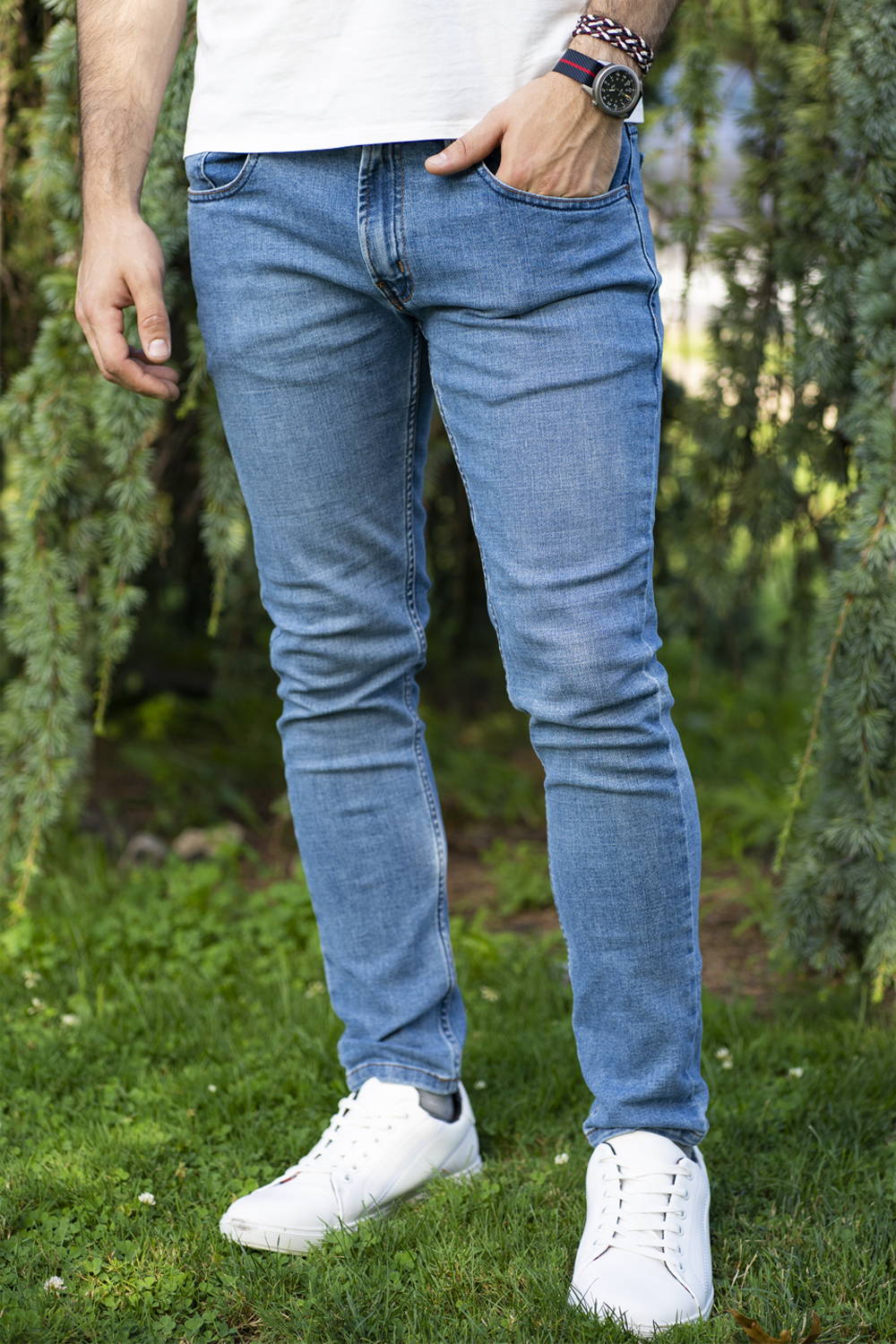 Our newest pair of stretch jeans in classic color shades
We like to call the Xavier our "super jeans" because they are not only simply great jeans, but they have some life-saving capabilities. All of these super qualities are thanks to the genuine Sorbtek fabric that makes up both colors of the Xavier jeans. Sorbtek is a brand new denim manufacturer that makes their fabrics by recycling plastic bottles recovered from our oceans. They take pollution and make it into state of the art, premium denim fabric! The plastic is turned into a polyester that is then woven together with cotton and washed to color preference.
It's that recycled polyester content in the denim fabric that gives it a number of wonderful qualities. Firstly, they have excellent moisture wicking abilities, which means it will dry quicker and won't give your man-parts a soggy feeling after a long day of hard work. Secondly, they are crazy stretchy which makes them super comfortable! They also have thermal regulation, meaning they keep you cool in the heat and warm in the cold. Finally, they also do a great job of retaining their original color, so the jeans will stay the color they are when they arrive to you, wash after wash.
Stylistically, we made a few choices that make the Xavier stand out. They have classic gold colored stitching throughout giving them a timeless look. We also ditched the metal rivets normally found on the stress points (like the pockets) and instead reinforced them with a heavy dose of stitching so they won't fall apart any time soon. For colors, we went with two gorgeous shades of indigo - raw, and light wash. The raw wash is a very deep navy that looks great on everyone and with anything from t-shirts, to sportswear. You can easily wear them with sneakers, boots, or dress shoes.
The Xavier jeans run true to size both in both the waist and on the inseam length so we recommend going with your normal waist size. They're pretty stretchy so if you're in between sizes, go with a smaller waist size.
---
Our extremely stretchy, extremely comfortable jeans
The Kingston jeans are a favorite among travelers and those guys who put comfort at the top of their priorities list. We call the Kingston our "Xtreme Stretch Jean" for good reason; they have unbelievable four-way stretch (stretches up, down, left, and right) you really have to feel for yourself to believe. When customers come into the store, it isn't uncommon for them to start doing squats to test out the elasticity. Think of the stretchiest pair of pants you own, say your gym pants, and imagine a jean that is just as (if not more) stretchy as those! That's the Kingston. That's why people love the Kingston when commuting (especially flying), though they're just as great for lounging around and going out.
The stretchy nature of the Kingston fabric is thanks to the 27% elastane content. Although they have the weight and durability of traditional denim, the Kingston has the feel and stretch of a workout pant. Additionally, the Kingston doesn't have the slubby, heathered appearance of the Bruce jean. Instead, it has a uniform color, much like a pair of khakis or chinos. It also has dark buttons on stress points instead of contrasting rivets and matching stitching for a more polished look. These details make the Kingston extremely versatile and stylish, capable of being worn with a tee shirt and sneakers, or a dress shirt, blazer, and dress shirt. We especially recommend the jet black Kingston jeans because they are slimming, ultra comfy, and look so good dressed up or dressed down.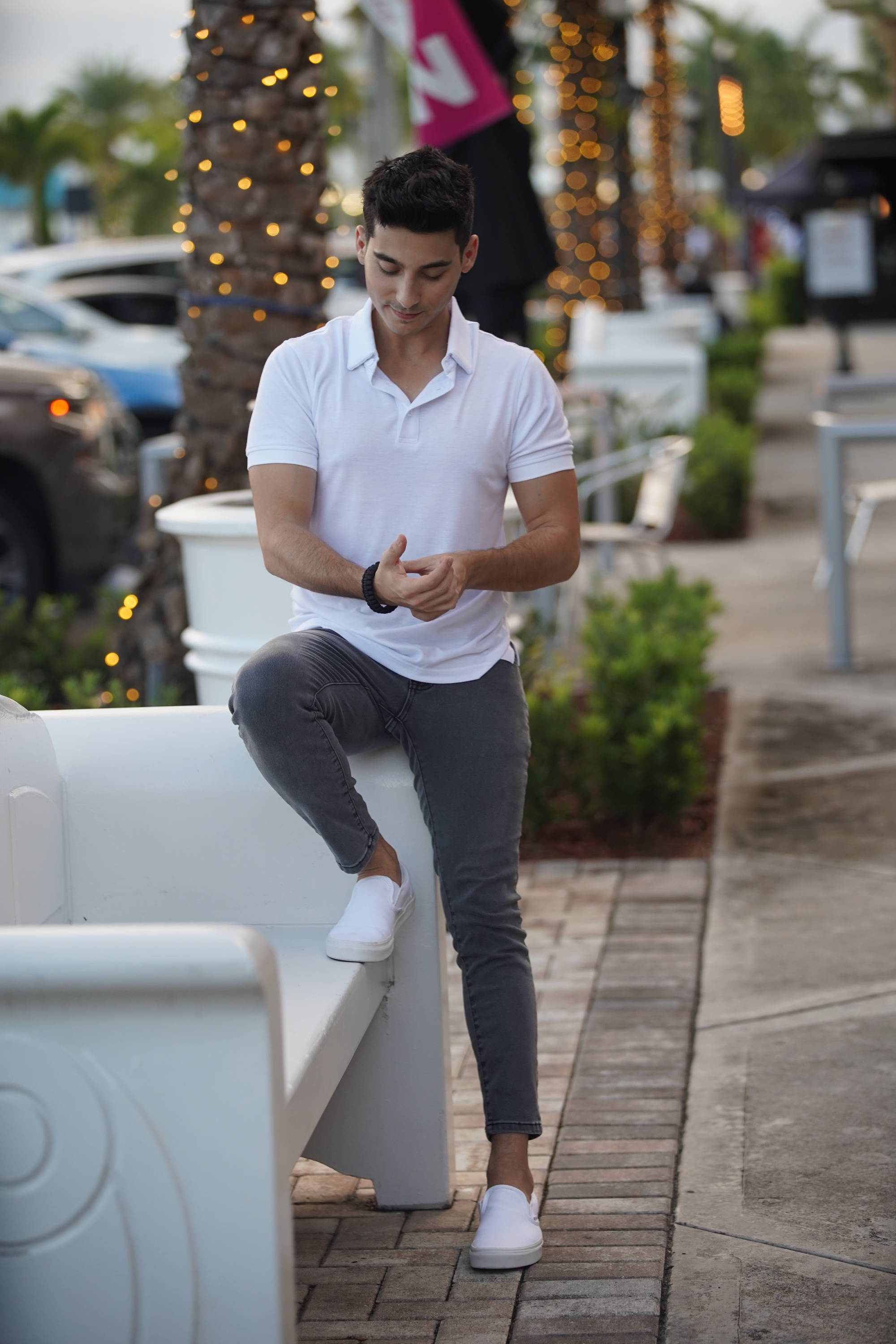 The stretchy fabric also lends itself to being a great fit for guys with stockier builds. The thigh and waistband have the ability to stretch a few inches, which is great if when you eat a big lunch and need some extra give (say goodbye to having to unbutton your jeans after meals!). It features the same slim-skinny fit as the Bruce but if you're an extra slim guy, you can feel free to size down on the waist since it will stretch. The Kingston comes in a classic indigo, faded gray, and black (by far our best seller!).
---
Sizing + Getting The Proper Fit
Now that you've seen our collection of jeans, let's get you sized properly. Men's pants sizing has 2 measurements - waist size and inseam length. The size is written as W/L, so if you are a 32 waist size and a 28 inseam length, your size would be a 32/28. Your waist size is unofficially the circumference of the waist band, although it's really the measurement in inches of your waist minus about 4 inches. Your inseam measurement is the length of the leg, measured from the crotch to the hem. For a detailed guide on how to find your size, click here.
The fit on all of our jeans is consistent; they sit slightly below the waist, and slim through the thigh, with a tailored or tapered leg from the knee down. Having clothes that fit close to the body is essential for all guys, but especially for short guys because it makes you look taller. Baggy jeans will make you look shorter because it will give you a wider silhouette instead of a streamlined one.
Having a singular fit throughout our jeans collection is advantageous because once you find your size, you can be sure that all of our jeans will fit you very similarly. But finding your true and accurate size is crucial and will be worth getting right.
Because our jeans have a very slim fit, more often than not, the reason jeans don't fit on the first try is because they were too tight on the leg. The most important thing to keep in mind is that as you increase waist size, the width of the leg will increase proportionally. So the leg opening width on a 34 will be larger than that of the 32 in our jeans. Thus, we always recommend ordering at least 2 sizes of our jeans so you can guarantee that something fits the way you want it to.
This image illustrates how 2 different sizes fits on the same person. The graphic on the left shows the standard fit of our jeans. However, you may prefer a but more room on the leg, like that of the graphic on the right. By sizing up on the waist, you can achieve a slightly more relaxed look on the leg.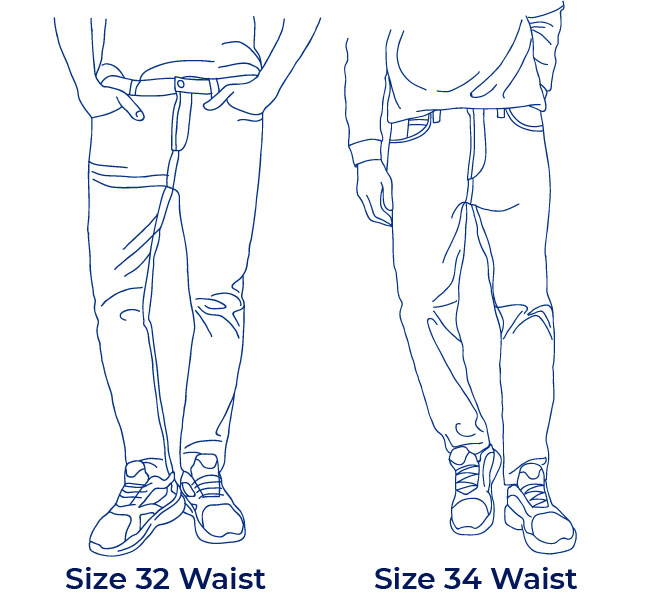 ---
Here is a size chart that shows the approximate measurements for all of our jeans. It will show you the exact measurements of the physical jeans so you can compare them with jeans you currently own or have a preference for. Keep in mind that the factories can tolerate a ½ inch margin of error for each of these measurements.
30
31
32
33
34
36
38

Rise

(Distance from Waistband to Crotch Seam)
Note that even if you know all the measurements and think you have a pretty good idea of which size you are, you may still need to make some deviations from your size. This is either due to variation in body type, or variation in each jeans's unique fabric. The next sections will further explore how to choose the size that will look best on you, for each of our jeans.
---
Finding Your Correct Waist Size

Finding the right waist size is crucial to make sure that your pants fit you correctly in all the right areas. Although you may know your waist size based on measuring, you may need to size up or size down on our jeans to get them to fit optimally.
Body Profile - A key to finding the right waist size for you is taking your body profile or body type into account. In general, there are four main body type categories: Thin, Average, Athletic, and Brawny. Thin guys have small waists and narrow legs. Average guys have proportional waist and leg widths. Athletic guys have muscular thighs (think guys who do weightlifting) and thinner legs. Finally, brawny guys have bigger waistlines, and bigger thighs and legs. Try assigning yourself to one of these fit profiles because it will help you decide which size to get in each of our jeans. We put the size recommendations in each product page under the tab titled "sizing" and suggest how to size yourself relative to your normal waist size by body profile.
Here is how to fit yourself into each of our jeans based on your body type, and always keep in mind we offer free shipping and returns because we want you to try multiple sizes and don't want you to feel pressured to nail your size perfectly the first time should you just order one item.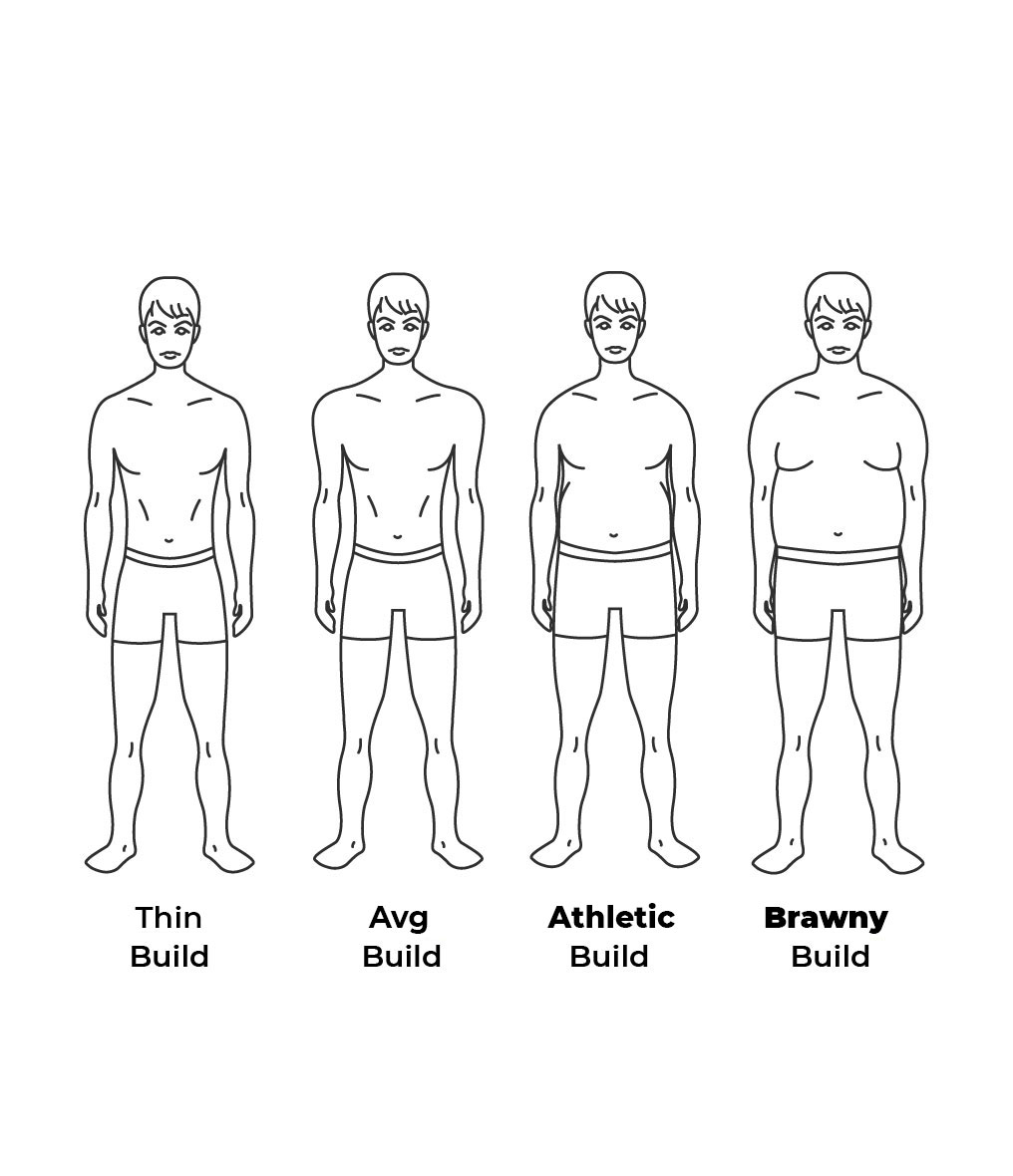 Sizing Adjustments Based on Body Profile
Reading the chart: Find your normal waist size and then follow the row to find what we recommend you size yourself based on body type. Check what we recommend for the Bruce, Xavier, and
| | | | | |
| --- | --- | --- | --- | --- |
| | Waist Size | Slimmer Body Type | Athletic Body Type | Brawny Body Type |
| | | | | |
| | | | | |
| | | | | |
The Bruce: Has a hint of stretch and is available in waists 31", 44", and 40" as well as 25" inseam lengths. therefore we recommend ordering your typical waist size for all body types. If you would like a more relaxed fit on the leg, go up a waist size.
The Xavier Jean: Has 27% stretch content for a very stretchy feel. For slim builds, size down. For average, athletic, and brawny builds, go with your normal waist size.
The Kingston Jean: Has 27% four-way extreme stretch - way more stretchy than both the Bruce and Xavier jeans. For slim, average, and athletic builds, size down on the waist (especially if normally an odd waist size. For brawny builds, order normal waist size.
---
Choosing Your Correct Inseam

Men's inseam size means the length of the jeans, and it's the reason you're shopping at Under 510, since we offer inseams starting at 25 inches! If you aren't sure of how to find your inseam size, since we're offering sizes you probably have never seen before, click here to check out how to measure your inseam length in the comfort of your own home.
The key to getting the right inseam length for you is understanding your body proportions, what we call your leg-to-torso ratio. Some guys have shorter torsos and longer legs, whereas others have it the other way around. Another way to think of the leg-to-torso is visualizing where you wear pants - some guys wear their jeans at their far below their natural waist at the hips, while others wear them far closer to the navel. Guys with slim builds, or guys large stomachs typically wear their pants low while average guys wear their pants closer to their natural waist.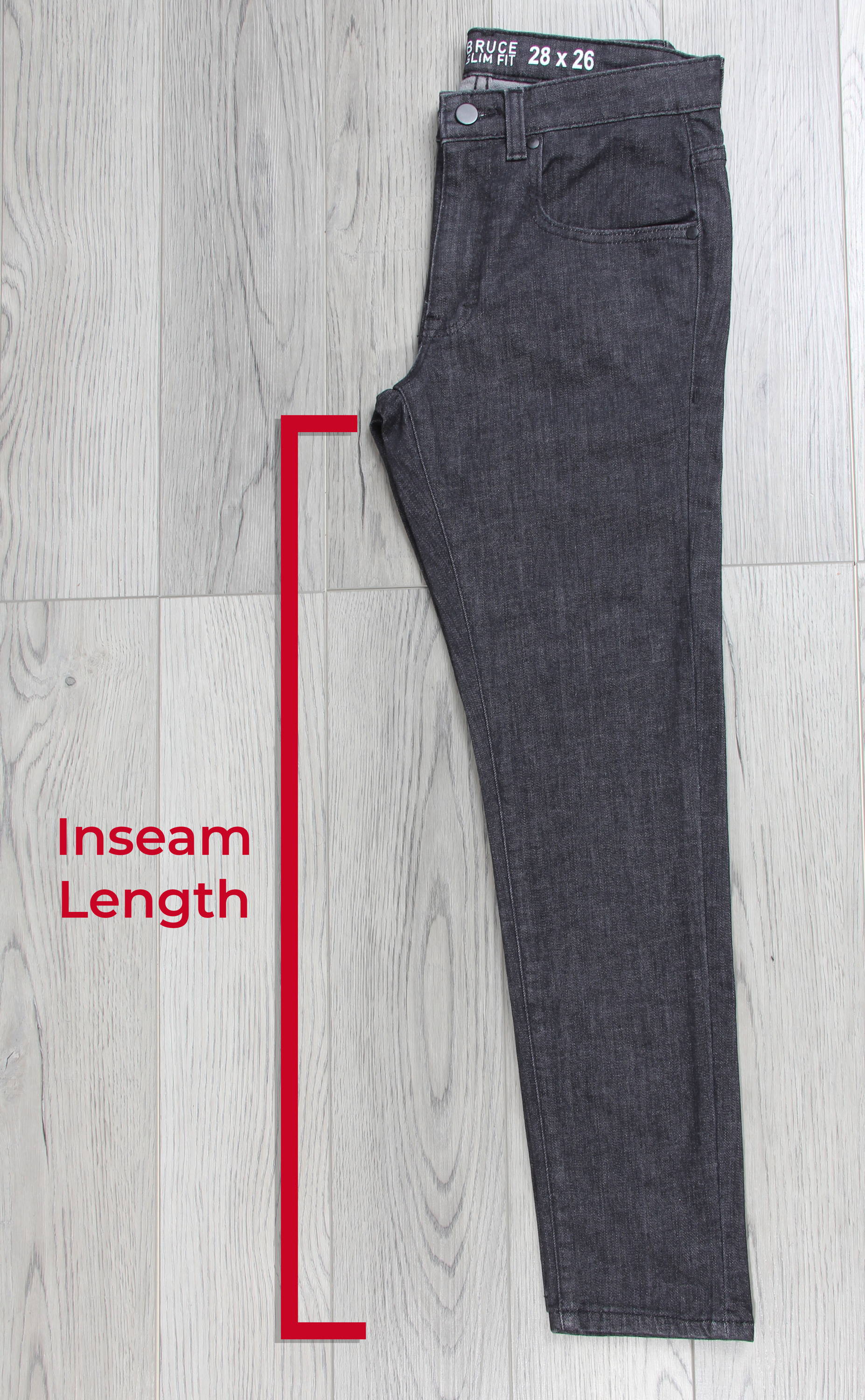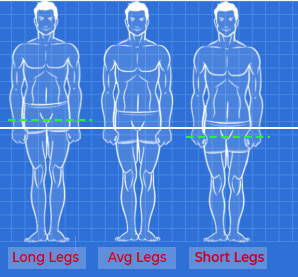 Notice how all the men in the above image are the same height but have different leg lengths - so even though they are the same height, each requires a different inseam length.
So even if you're 5"10, you might wear your pants far below your waistline, and fit best in a 27" inseam despite most guys your height having a longer inseam length. That's why we don't typically like to give broad generalizations for inseam lengths by height for men; you could be the same height as someone but have vastly different leg lengths and thus very different inseam lengths. Don't assume that you are a longer inseam than you really are - many guys order a 29" inseam and end up exchanging them for a shorter option. It's likely the first time you are being given the option for shorter inseams, so make sure to try out multiple inseam lengths and see which you like best.
---
Here comes the fun part. Now that we've got our sizes and have a pair of jeans that fits, how do you style your jeans? There are a lot of factors that go in to make you look your best when wearing our jeans!
Firstly, know which colors look best on you. Think about your skin tone and hair color. As a general rule, guys with darker skin tones look good in lighter, brighter colors whereas guys with lighter skin tones look good in darker colors. On the other hand, if you have dark hair, you probably look like a letter in darker colors. Try to create contrast in your skin tone, hair color, and jeans but while maintaining balance. The best thing to do is to order a few different colors and try them on to see which looks best on you.
Next, think about how you want to look in your jeans. What is your dress code? What do you normally wear to work or to school? What formalities do you want to achieve with your jeans?
Darker jeans, like indigo and black, are going to be easier to dress up, though they can be dressed down easily as well, making them the most versatile option in jeans. Lighter wash jeans, like light blue and gray, are going to be more casual and youthful. Light wash jeans are harder to dress up. Additionally, think about the texture and overall look of your jeans. Slubby textures are more casual whereas uniform colored jeans are more formal looking. For example, the Bruce jean is slubby and more casual in appearance compared to the Kingston jeans. Our easiest jeans to dress up (or most mature looking jeans) would be the Kingston in black and the Bruce in blue, whereas the most casual, youthful jeans we carry are the Xavier light wash jeans.
Also take into consideration what kind of climate you live in and the season you'll be wearing your jeans in. Hotter, sunnier weather calls for lighter wash jeans (dark colors can get hot in the summer) whereas dark wash jeans are more appropriate during the winter. Dark wash jeans are also optimal for night time wear as they have a sleeker, sexier look to them.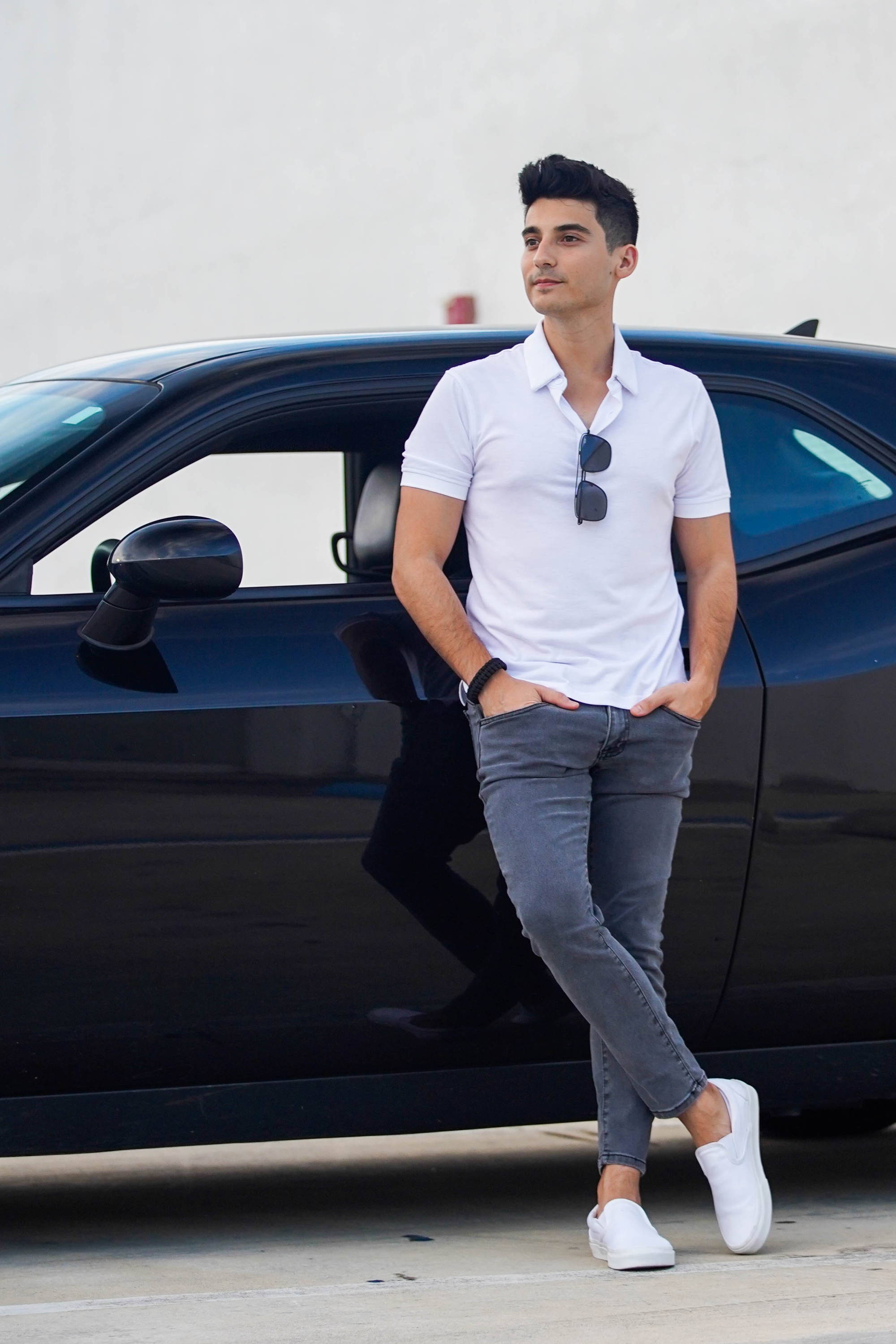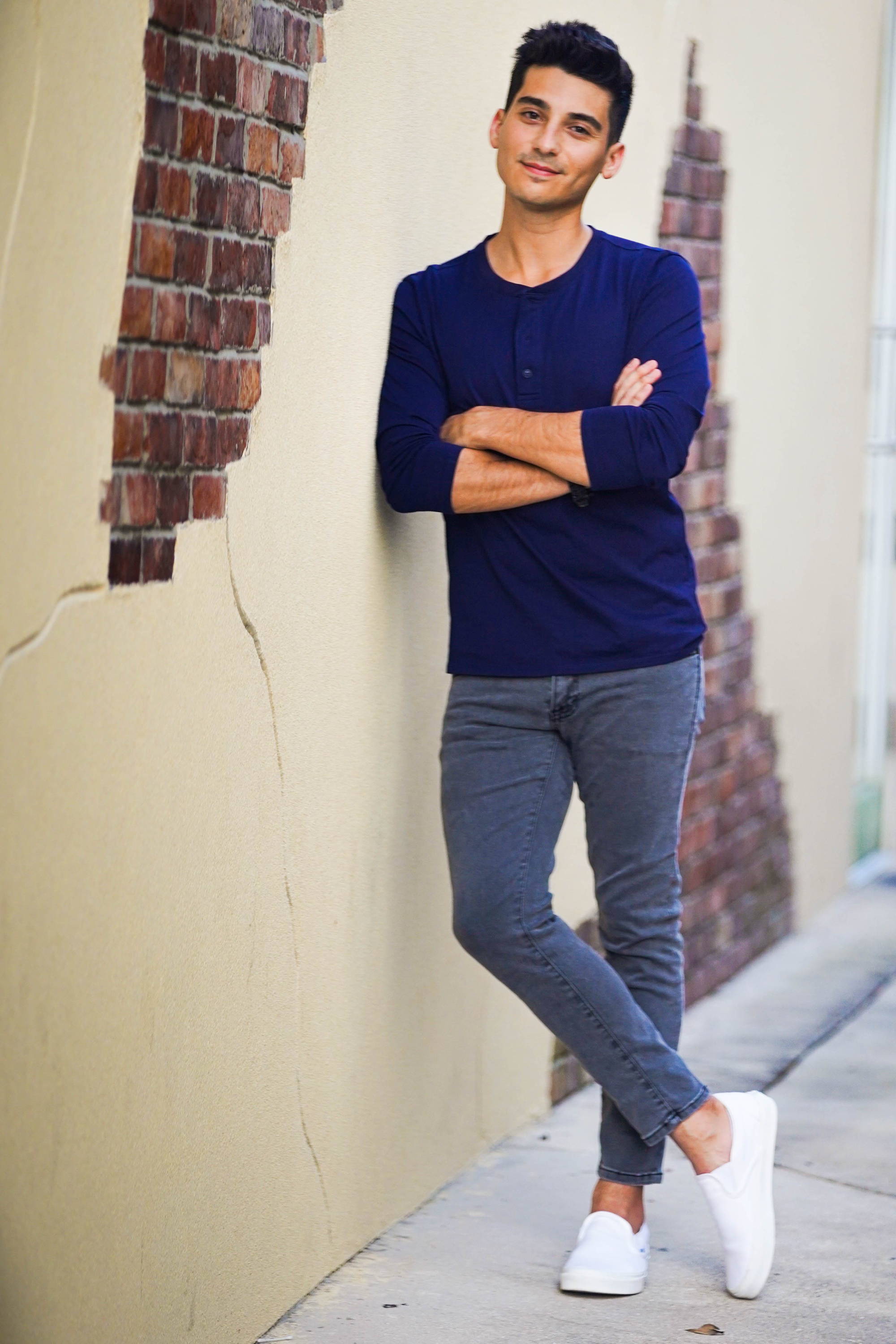 Finally, consider how you want your jeans to look. Do you like the look of cropped jeans? Cropped jeans fall a few inches above the ankle and best show off your footwear. See the above pictures of Frankie and notice how his jeans fall above the ankle for a more "cropped" look. Maybe you like your jeans to have a bit of extra fabric at the hem. Perhaps you prefer a more relaxed look and feel with your jeans in which case, you should size up on the waist. Or it's possible that you like your jeans to be extra skinny tight around your legs. The ways to style your jeans are pretty much endless so be patient and don't forget to try multiple colors and sizes!
In conclusion, Under 510 has short guys covered when it comes to shopping for jeans. We've got fabrics that will suit the needs of every guy, including super stretchy, and of course inseam sizes starting at just 26" to fit you properly. Now that we've opened the door to denim, it's up to you to find the perfect pair for you! Try out each of our jeans and feel the greatness for yourself - with free shipping on orders of $100+ and always free returns and exchanges, there's no point in waiting!
As always we love to hear from our community of short guys! Let us know if you have questions, comments, or suggestions! Email us at support@under510.com or chat with us!
Leave a comment