Short Length Joggers for Men
Short Length Joggers
for Men
Taking a look at our joggers for men that come in shorter inseam lengths so they'll look great on you!
Ever wonder where you can find men's joggers or sweatpants that aren't way too long? Especially in today's world, guys are looking for comfortable clothing just as much as they are looking for stylish clothing. But clothes now aren't necessarily one or the other; you no longer need to have baggy, loose, ill-fitting clothing to be comfortable. Who wants to be wearing stiff, uncomfortable clothing while attending a Zoom meeting anyway? Luckily, menswear has been going in the comfort-first direction even before the pandemic hit.
Fabric mills have been able to design fabrics that blend traditional materials such as wool and cotton, and mix it with elastane making pants like jeans, chinos, and dress pants way more comfortable and wearable. All of our pants at Under 510 utilize stretch in their fabric content, because we believe in looking great but never compromising on comfort.
There's stretchy chinos, ultra stretchy jeans, crazy stretchy dress pants available for us short guys. But then there is the king of comfort - the jogger sweatpants. We all love our cozy fleece sweatpants or joggers, especially when temperatures are dropping rapidly. And with the casualization of menswear as a whole, it's become totally acceptable to wear joggers outside the house. The cinched, elastic cuffs give them a tailored look that is slimming and elongates a silhouette. The drawstring waistband also allows for comfort, even after a big meal!
The big problem with most joggers out there is that they usually only come in one length. And although shorter than your typical inseam length, they're usually still too long for guys below average height. That leaves a whole lot of men unable to find proper fitting joggers. Boo!
Luckily, Under 510 has your back. We've already launched our first jogger sweatpants for short men, the Tyson Joggers, which come in a cozy lux-fleece. After resounding support for the Tysons (they were sold out twice!), we've also made a jogger made from french terry fabric (the same used in our crewneck sweatshirts) that we think will be received just as well.
Let's take a closer look at both styles of joggers discuss and why you're going to love wearing them:
Fabric

Details

Fit

Length

Style Options

Care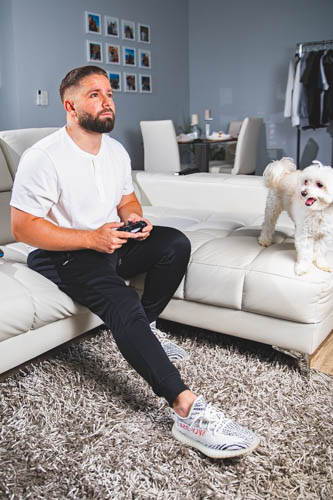 ---
Tyson Joggers
Fabric - We now make the Tysons in two different fabrics! The original Tyson Fleece and the newer Tyson LTE.
Tyson Fleece - The Tyson Joggers are made from a perfect fleece fabric that makes them warm, comfy, and stylish. We hunted for the right fleece fabric and wanted something that feels great on the inside, but also has a stylish look on the outside. The fabric we chose is just that; it has a wonderfully soft interior that is warm but also smooth and won't pill like other fleeces. The exterior has a slight sheen that makes it a bit "dressier" than your pajamas so they look just as good at the bar as they do on the sofa.
They're 100% polyester which gives them great recovery & moisture wicking benefits, an essential feature for those of you who want to wear these to the gym. They're warm, but also breathable so that you don't overheat when you wear these joggers on your morning run.
Tyson LTE - The Tyson LTE has the same look on the exterior but instead of using fleece fabric, uses unlined material similar to soccer pants. It's lightweight and stretchy making for a breezy and flexible feel. They're great for wearing out in warmer climates/seasons, but are also perfect for lounging or gym wear. You'll find more uses for them than we can name!
The Tyson Joggers come in black, gray (shown) and navy, while the Tyson LTE comes in black, navy (shown), aluminum, and onyx.
Details - The Tyson Joggers, have a sleek, minimal look but do feature some small details that make them unique. For example, they feature zip closure pockets to protect your valuables. This is especially important for those of you who exercise in these joggers. Another small detail is the metal tips found on the end of the drawstring to keep it from unravelling and makes it easy to rethread in the event it falls out in the wash. New for this season, we added a back zip pocket for your valuables. (Which was a recommendation we read on a lot of reviews)
Fit - Like all of our pants, the Tyson joggers have a slim tapered fit from the knee down. This gives you a sleek silhouette and can make shorter guys look taller compared to baggier, straight-legged pants. There are a few key things to note when you are sizing yourself for the Tyson joggers.
Firstly, the ribbed waistband makes the Tyson Jogger not only comfy, but gives them the ability to fit a wider range of waist sizes. We carry the Tyson in waist sizes 30, 32, 34, 36, and 38. However, you may be able to fit into multiple sizes, especially if you are an odd size like 31, or 33. If you like a slimmer, more snug fit, then size down - the smaller the waist size, the slimmer the rest of the measurements of the jogger will be. For example, the leg opening on a 30 is slimmer than the leg opening on a 32. So if you are a 31, go with a 30 if you prefer a tighter fit or have skinny legs, and go with a 32 if you have thicker legs or prefer a more relaxed look.
Secondly, the fit on the thighs is also a bit more relaxed than our jeans. For those of you who have more athletic builds, such as larger quads or glutes, you may find that ordering true to size will give you enough room whereas you may size up with our jeans. On the other hand, if you have skinny legs, we suggest sizing down.
Finally, the leg opening is also quite narrow due to the elastic cuffs. This gives the joggers a slimmer look overall.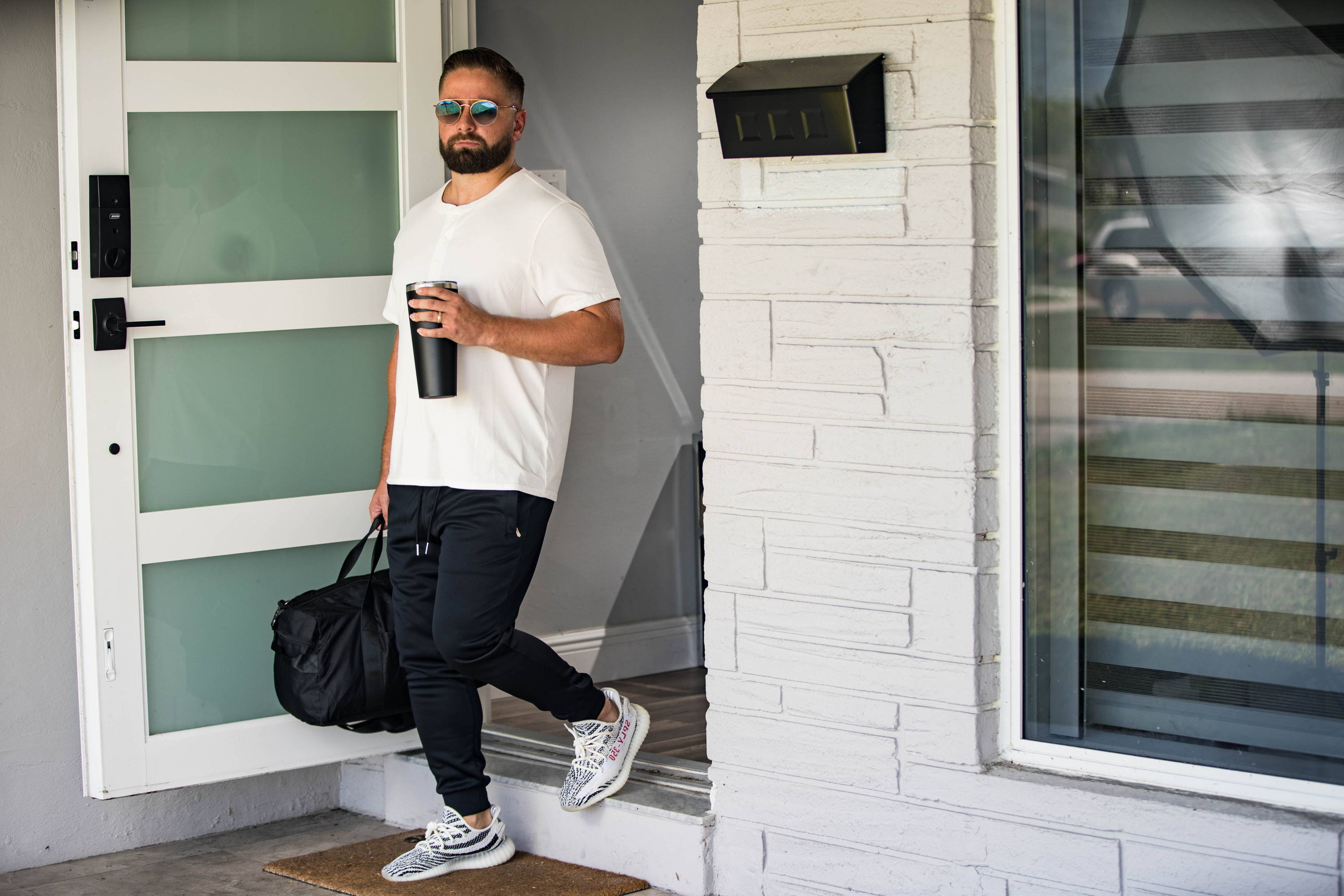 Although the Tyson Joggers are the perfect pants for lounging around and being lazy, they also live up to their name by performing well in athletic situations!
Length - The Tyson Jogger comes in 2 inseam sizes that are made to fit shorter guys; 24" and 26". This is especially great for shorter guys because unlike other types of pants, joggers can't really be hemmed by a tailor. Generally, joggers are supposed to give a semi-cropped look and fall above the ankle bone. This not only can make you look taller, but also allows for you to show off your sneakers! When it comes to sizing length, it depends not only on height but your leg length, and personal style. Our recommendation is for guys over 5'5" , go with a 26" and anyone 5'5" and under, go with the 24".
Style - The Tyson Joggers are perfectly suited for lounging around the house, going to the gym, or going out. Because you can wear them in a lot of different situations, you can wear them with a lot of different tops. Check out the attached pictures for some style inspiration featuring our t-shirts, crewneck sweatshirts, and polo shirts.
Care- When washing your Tyson Joggers, or all of your pants from Under 510, we always recommend washing on a cold cycle, and never putting them in the dryer. Instead, find a drying rack (or back of a chair) to lay them down on to dry. The heat from the dryer will cause any fabric to shrink and ultimately wear out a lot faster.
Notice how the 26" inseam of the Tyson joggers falls just above the sneaker which not only makes shorter men look taller, but allows you to show of your sneakers! Check out those Yeezy's!
---
Fabric - For the french terry joggers, we used the same great fabric found for our crewneck sweatshirts. French terry is a fabric that is recognizable from it's small, smooth "loops" found on the underside of it. If you've never felt french terry, it sort of feels like a towel, only for ours, the loops are much smaller. The 100% cotton terry is a mid-weight, resilient, and breathable so you won't overheat. It feels a bit less warm to the touch compared to the fleece fabric found in the Tyson joggers. Whereas the crewneck sweatshirts came in olive, burgundy, navy, and charcoal, the joggers are available in navy, charcoal, and an all new black! Although joggers remind us of cozying up in the colder months, this french terry fabric is perfectly suitable for wear throughout the year.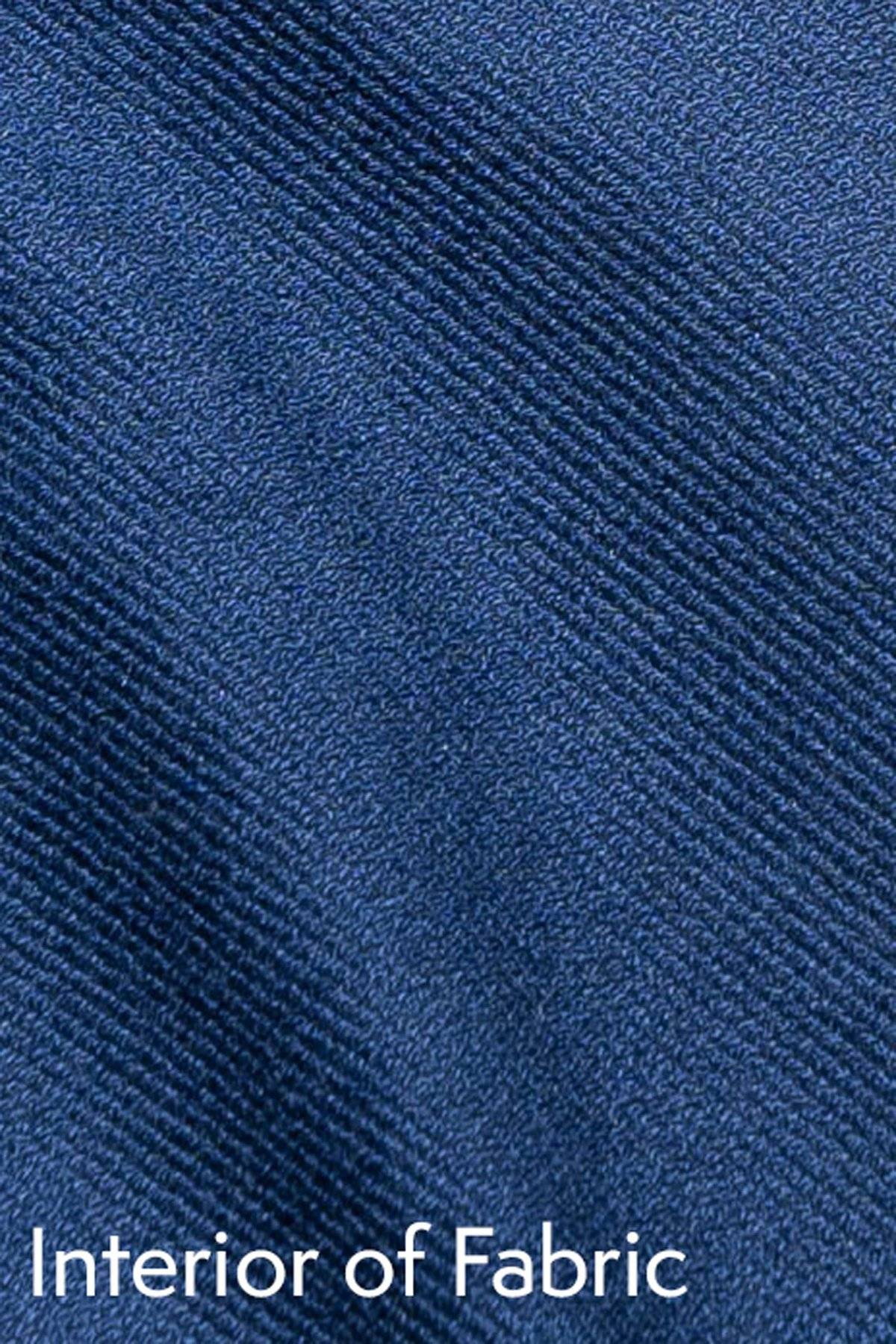 Details - The french terry joggers have a few more design elements and details compared to the Tyson Joggers. They feature chino-style slant pockets for easy access. Like the Tyson, the drawstring has metal tips that keep it from unraveling and make it easy to replace if it falls out. The waistband also has a stitched track that keeps the drawstring in place and centered. Finally, they also have a nifty back pocket with a flap that adds more storage and styling.
Fit - The fit of the french terry joggers are very similar to all of our pants, including the Tyson. Therefore, you should follow the same fit guidelines as mentioned above. Remember, if you have thin legs, consider sizing down because the waistband is very stretchy and most guys can easily fit into 2 waist sizes. If you wear your pants low, or have short legs, opt for the shorter of the two inseam lengths. Remember the slim tapered leg and elastic cuff mean that these French Terry joggers look great with low profile sneakers! They should rest just on top of the shoe and therefore draw the attention to your feet, compared to jeans that usually have a slight break over the shoe.
Length - The French Terry Joggers are also available in inseam lengths of 24" and 26". Follow the above instructions on the Tyson Joggers to get a recommended length. Generally who are above 5'5" fit best in the 26" and those 5'5" and below fit the 24" better. It definitely also depends on the length or your legs and where you wear your pants on the hips. Also consider if you like the "cropped" look which is great for styling joggers.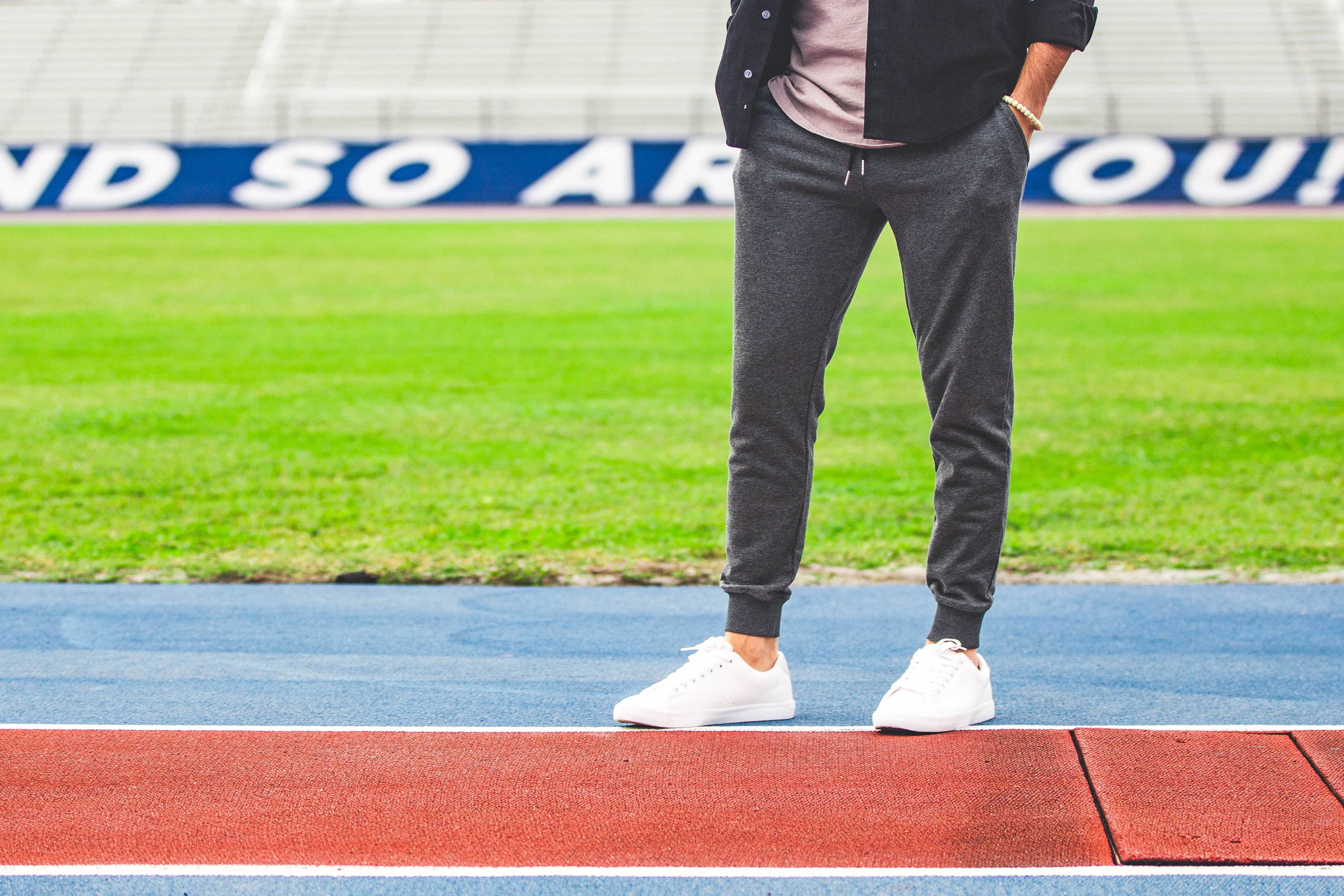 You can rock the French Terry Joggers with a bunch of different tops. Here, they're being worn with a heavyweight overshirt for a more casual vibe. Gray is a great color option because it blends with any other color (except gray) perfectly.
Style - The French Terry joggers have a more traditional "sweatpants" look compared to the Tyson Joggers. Whereas the Tyson has a more "shiny" look, the French Terry joggers have a more "cottony" look that is more matted. This makes them more suitable for casual wear, say with a t-shirt, henley, or sweatshirt. Check out the photos below for some style inspo!
See how the French Terry Jogger similarly to the Tyson in that it is slim on the leg and looks great with a pair of sneakers. They're light enough to be worn on the track but are cozy enough for the cold winter too.
Care- As mentioned earlier we always recommend washing our pants on a cold cycle. Cold water allows clothing to retain their original colors a lot better than warm or hot water. Additionally, we recommend air-drying your clothes rather than putting them in the dryer because high heat can cause fabrics to shrink and wear down faster. So follow that advice to help get the most out of your french terry joggers.  
In summary, joggers are the tip of the iceberg when it comes to comfortable pants for guys. With our Tyson and French Terry joggers, you could get a fabric that works for your lifestyle, whether it be the warm fleece of the Tyson or smooth cotton of the french terry jogger. You can wear them as sweatpants, activewear pants, loungewear, and casual wear all throughout the year. Best of all, Under 510's joggers come in shorter inseam lengths of 24" and 26" and give you the full range of waist sizes so you can find the perfect fit. Remember, we offer free shipping on orders of $100+ and free returns on all orders, so feel free to try out a few sizes and send back the ones that don't fit perfectly at no cost to you for a full refund. If you need some help figuring out which size waist and inseam is right for you check out our Sizing Page here.
We love to hear feedback from our community of short dudes, so if you have any questions, comments, or suggestions, email us at support@under510.com or call us at 515-295-5900 at anytime!
Leave a comment