12 Style Tips for Short Men - How Your Clothes Should Fit
12 Styling Tips for Short Guys
How Your Clothes Should Fit
Here is a dozen tips for shorter guys out there to maximize our height so we look our best!
Well, you're shorter than the average guy. By no means the worst thing in the world, but something that be a major blow to your confidence. Whether it be dating, shopping, meme-viewing and so on and so forth, short guys have it rough.
So how do you jump the hurdle and make sure the way you carry yourself is the first thing people notice instead of your height?
First, you remind yourself that there's nothing wrong with being short. Reading Reddit threads or scrolling a social media feed that bashes male height can be infuriating, but rest assured, you can still be more confident and better dressed than most guys taller than you.
But how? Where to start? Well, your first priority should be for you to learn how to style your wardrobe and make sure your clothes fit right.
We're going through a complete list of styling tips for short men that will make you feel more confident, look and stand taller.
---
Styling Tips for Short Men

The best way to get started is to jump right in. As a note to you, these tips will cover fit and styling tips as well as style mistakes to avoid for short guys. Here is our list of 12 style tips for short men to help them look their best. Click any of the items below to jump to that section.
---
1. Make Sure Your Clothes Fit
Making sure your clothes fit your body isn't just a tip for short guys. There isn't even a novel way that short mens' clothes should fit as opposed to average height or taller guys.
Let's break it down by clothing item:
Shirts/Tees/Sweaters and Tops
The key with tops is to make sure your shoulder seams sit right on your shoulders. They're a dead giveaway for ill-fitting tops.
Next, as a short guy, be cognizant of the length of the shirt, tee, or top. Something too long is going to make it look like you borrowed someone's clothes. This goes for the length of the shirt itself as well as the length of the sleeves.
If you need help figuring out the size you need, check out our Sizing Guide.
Lastly, make sure the top isn't too tight around the neck and that you're comfortable overall. Finding a top that accentuates your chest and arms will help you look more fit and feel more confident.
Our shirts are specifically designed for shorter men without any alterations needed.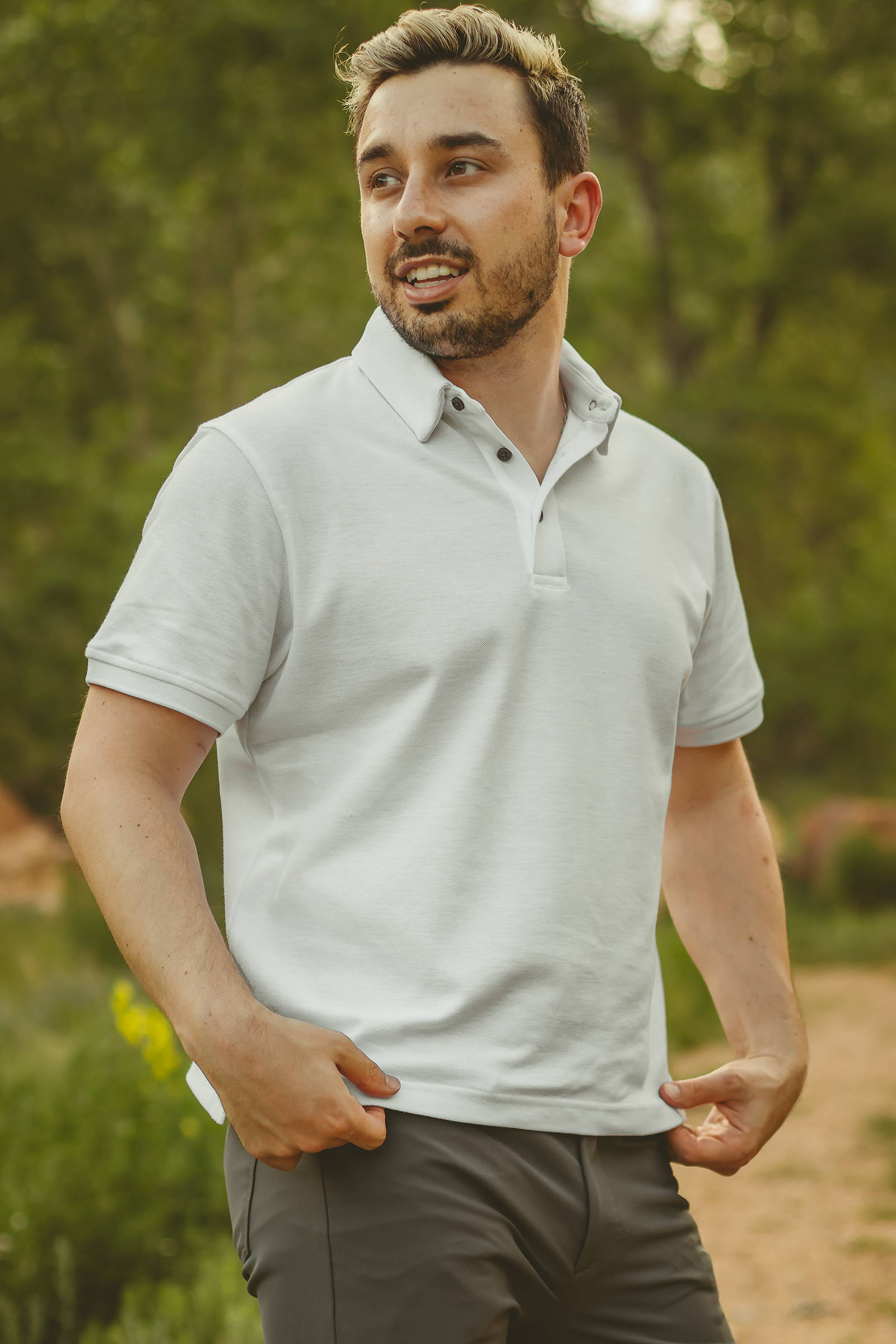 Pants
Typically, a slimmer fit with a slight taper on the legs is going to help elongate your legs and avoid any extra material that makes you look wider. The goal is to look as tall as possible.
But the main focus of pants fit on short men is the inseam. That's the distance between your crotch and the hem of the pants. Most of the time, general retailers don't go shorter than 28-30" on the inseam. Which means you're left with extra material to tailor or cuff.
All of our pants are made with the shorter man in mind and come in inseams starting a 25". Having an inseam that rests just above the shoe is perfect and will allow you to look your best. On the flipside, wearing your pants longer will actually make you look shorter. Find the inseam you actually need using our Sizing Guide.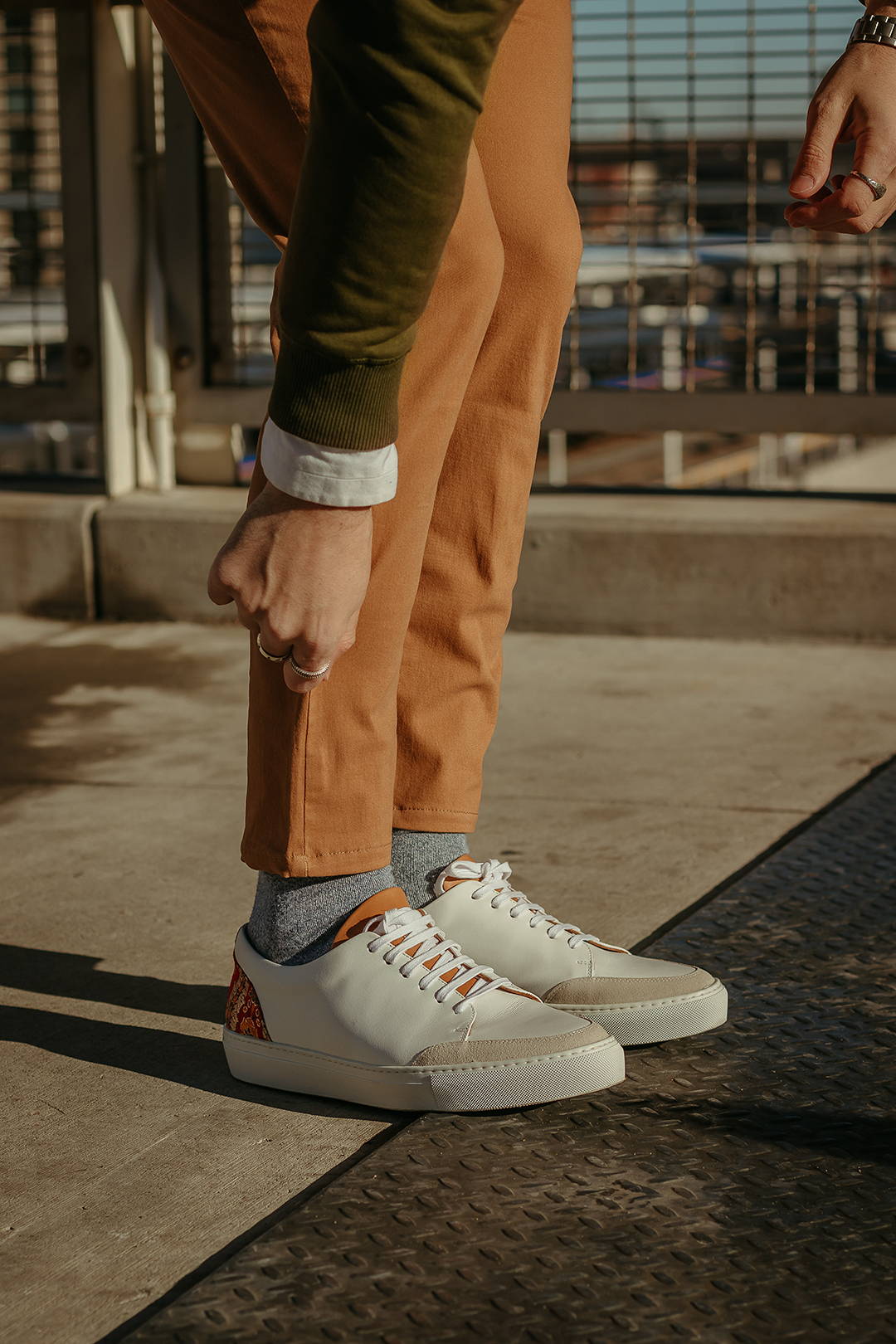 Shorts
Shorts for short men aren't too complicated. Just avoid anything that ends below the knee.
Stick to inseams around 5-7". Showing a little more leg will help you look taller.
You can also look for shorts with a slight taper. Make sure to avoid any styles that taper outwards like a trapezoid (cargo shorts) because those will widen your frame and make you once again look shorter.
Check out our in-depth breakdown on short sizing for short men for more information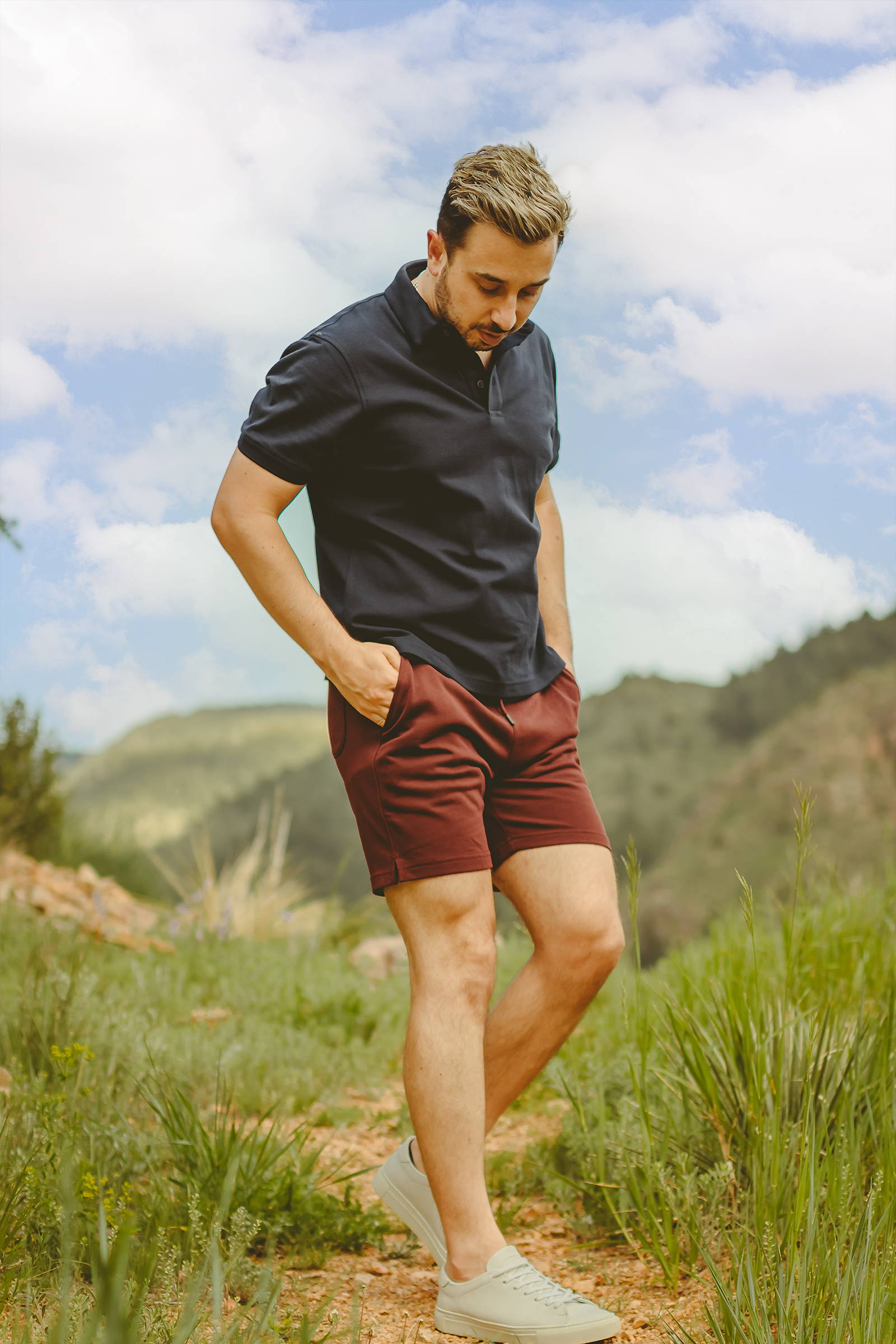 Equipped with the knowledge of how clothes should fit short men, and more specifically, your body, you have to shop smart.
That means finding the brands that make clothes that fit you correctly as well as not settling for sizes that don't actually work for you. That'll also help you avoid the "nothing fits me" slump. Aside from wasting money, its crucial to develop the discipline to avoid brands that do not fit you well. Easier said than done, short guys like us are always envious of the men who can rock certain styles for brands. Shorter guys need to be realistic about where they can shop and which items they need to avoid if they want to look their best.
Our store is a good place to start. Under 5'10 clothing is designed to fit men under 5' 10" perfectly without the need for alterations. We've taken those fit and proportion concerns into consideration and have created clothing that fits short guys off the rack (ie: right out of the bag!).
This tip is very simple. Although we at Under 510 want to eliminate the inconvenience and expense of going to the tailor, they can still be a huge help to shorter guys.
There's a good chance that you have a closet full of items that are too long on you or don't fit you correctly and a good tailor can do almost any alteration to get those items to fit right. Again, that's not just a principle for short men, but for everyone; short, tall, etc. A tailor can salvage old clothes that don't fit you, or alter new items so they look custom made.
Find a tailor you can trust and that will learn how you like your clothes to fit. That opens up your options to a lot more clothing. It may cost you a pretty penny, but you'll be supporting a small business (always a good thing), and it may actually save you money on clothes that otherwise would have been thrown away. Breathe new life into your clothes and keep them from being dumped into a landfill!
This is the part where we jump into tips that will improve your personal style and improve your eye for fashion. Our first recommendation is to try a higher waist in your pants.
It sounds counterintuitive because a higher waist can shorten the appearance of your torso, but a higher waistline does elongate the visual line of your legs, making you look taller. As a shorter men, a general rule of thumb is that you want your legs to look taller. And if you have to choose between elongating the visual impression of your torso (your upper body), and your legs (waist-down), legs take precedence. An easy way to illustrate this point is to think about where pants sit on the waist. Some guys wear their pants very low below the waist, and as a result, shorten their legs and elongate their torso. Those men get the illusion of "having no butt" since their pants slide below their gluteus maximus. If you wear pants higher, above the butt, you will inevitably get the appearance of having more leg, and thus have a taller look to your silhouette.
But beware, you still need to think about your body's proportions. If you're particularly short in the torso, it might shorten you up even more. The real advice is to give it a shot and see what you think.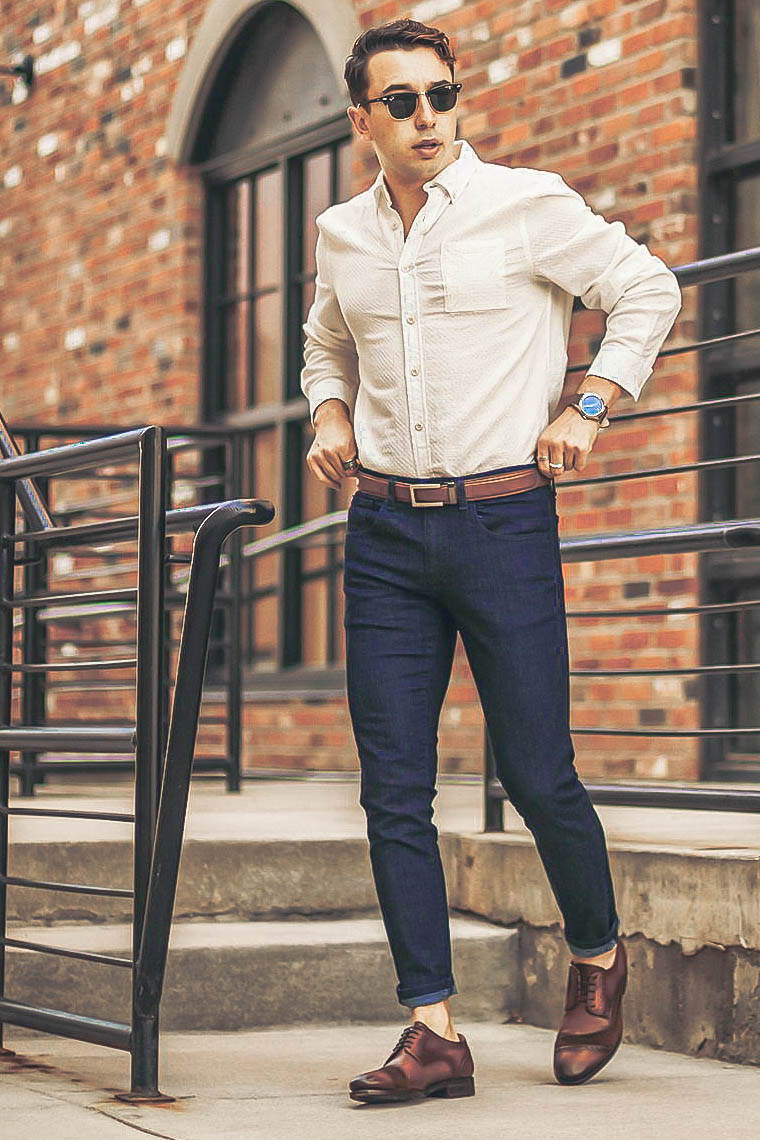 Wearing pants higher on the waist elongates the legs, making you look taller
This is also a simple tip to follow. We know that oversized, baggy, 90's silhouettes are making a comeback thanks to the likes of cultural icons like Billie Eilish. But they might not be the right style of clothes for short guys. This is where having the aforementioned discipline takes the stage front and center; although baggy clothes may look cool on some people, it can shorten and widen your look. We always say, if it comes to personal style, you be you. If you like the look and feel comfortable and cool wearing loose fitting clothes, do it. But for the majority of guys simply looking to optimize their appearance, we recommend avoiding men's baggy/relaxed fitting clothes.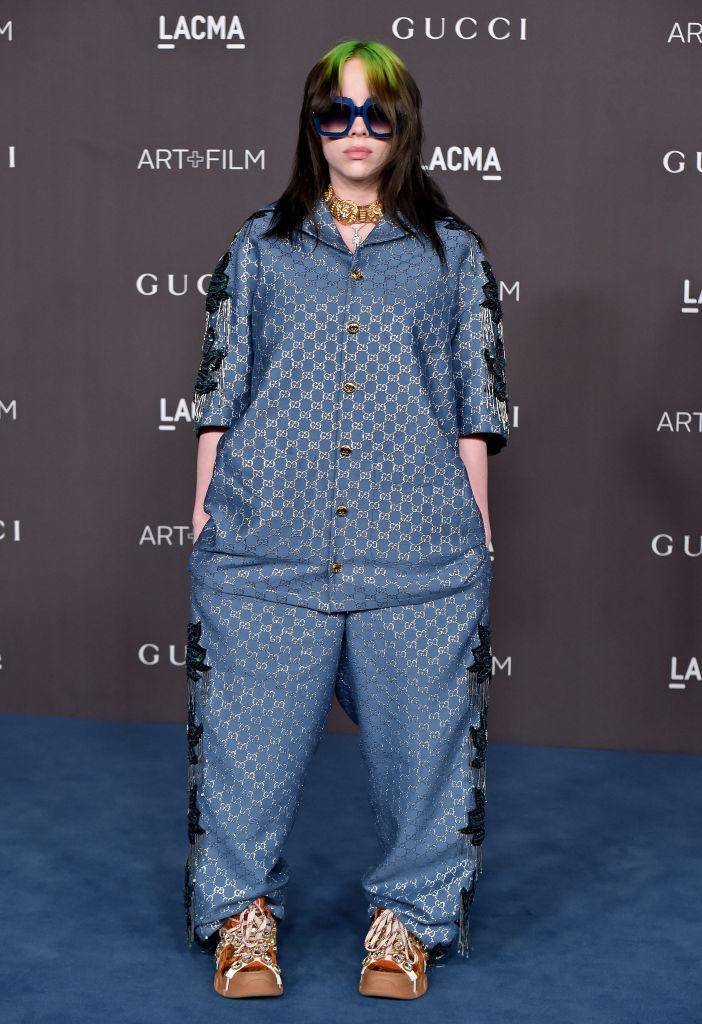 Celebs like Billie Eilish have hopped on the baggy clothes trend - usually not a good look of short guys. credit: yahoo
Baggy and loose clothing can drown you. Looking like your pants or shirts are swallowing you whole will only make you look shorter. Go for clothes that are slim and tapered that give you more of a natural upside-down triangular shape. As a man, that means a silhouette broadest at the shoulders that narrows to the ankles.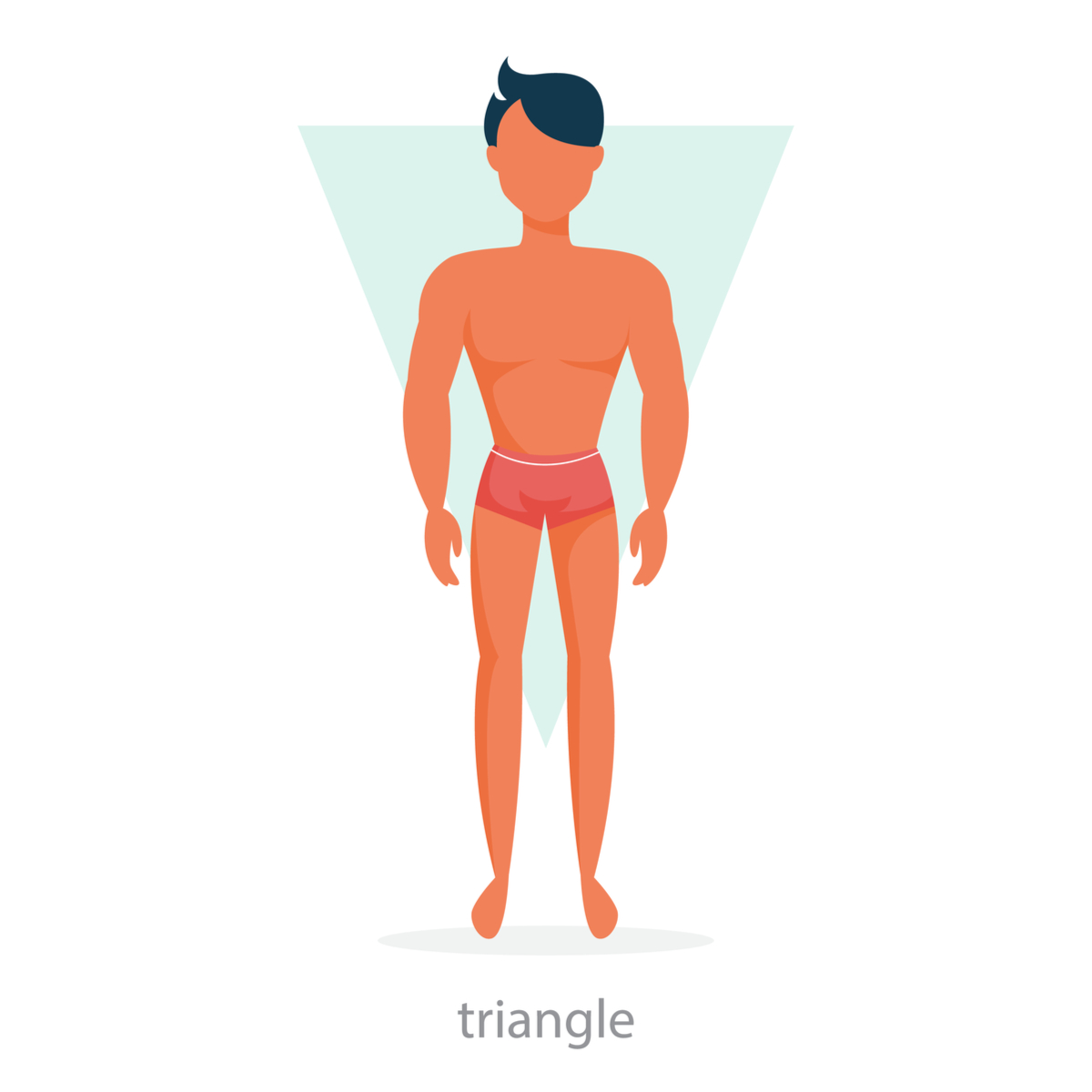 See how the natural masculine shape is an upside down triangle. Accentuating that shape will help us look taller.
6. Pick Items with Structure
Structure refers to the shape and form of an item. Choosing items that are loose and look more like drapes than clothes won't help you look taller in them. A good way to think of structure, or the lack of structure, is how "slouchy" something fits on you. If the items look like they're pulling you down, there's a good chance they're making you look shorter. For example, a pair of suit pants with a hard crease down the center of the legs give them shape and structure. But when the crease fades, it looks sloppy and soggy.
If you're dying to try oversized clothing, make sure you chose pieces that have structure. Think about structured waists or tapered legs so that you don't lose the form of the clothing and they still look like they fit you properly.
Pants with a crease are an example of clothes having structure
We're not telling you to avoid certain colors based on your height. There aren't really any colors that will make you look short. Color choices have more to do with your skin tone. For more information on how to match colors with your skin tone, see here. There are special stylists, known as "colorists" that get paid a lot of money to help people with this, so it isn't as easy as you might think.
The important thing to know when it comes to color is where you're placing colors on your body. This is especially important when it comes to bolder colors - how you style your bold-color pieces can help you look taller in your clothing.
Color draws focus, and it's better to draw the eye to parts of your body that elongate you - like the legs! If you choose a brighter or more colorful pair of pants, think about tucking your shirt or allowing them to stand out. If you're insecure about your height, use the color to accentuate parts of your body that you're proud of or make you look taller. Or better yet, if you're a guy who just wants to add more liveliness to your look, try adding a some color. Just remember to use it strategically.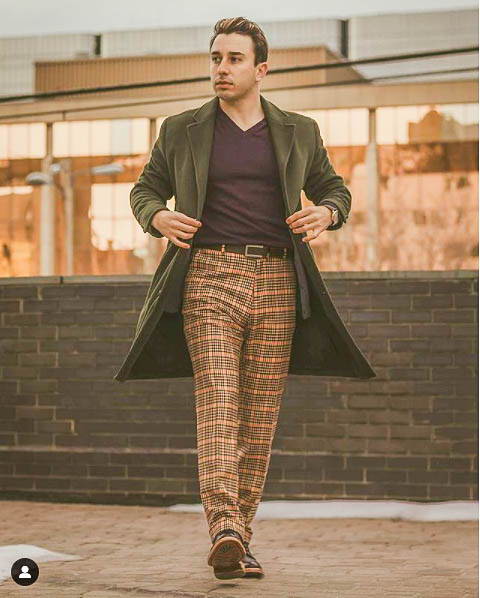 Bold patterns are more appropriate on bottoms since they make the legs looks larger
8. Choose Patterns Wisely
Whether we like it or not, patterns are tricky for short men. There are definitely ones that you should steer clear of if you don't want to look shorter.
Any pattern that runs horizontally, like sailor stripes or large plaids will make you look wider. Looking wider, in turn, makes you look shorter and stumpier.
Stick to vertical running patterns/stripes and subtle all-over patterns. Vertical ones will have the opposite effect and make you look taller. All-over patterns will help add depth to your outfits. For example, try thin bengal stripes or small gingham checks. Those patterns will allow you to show some personality without washing you out.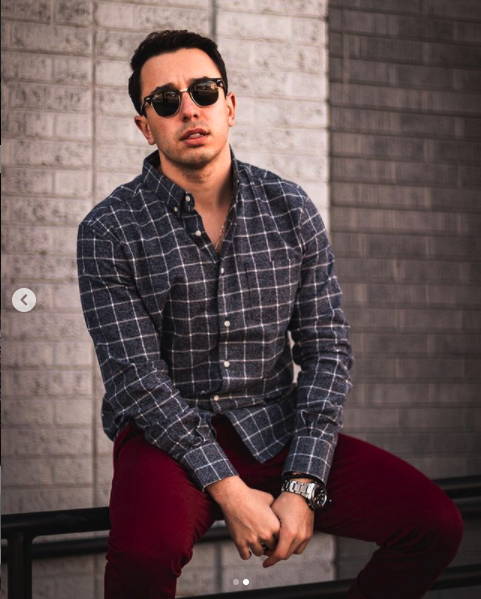 Big patterns bad, small patterns good! This windowpane pattern is subtle enough that it doesn't swallow short guys up
9. Pay Attention to Proportions
Aside from proportion as it relates to the fit of your clothes, certain pieces of clothing have details that can throw off your visual balance and make you appear shorter or smaller in your clothes.
A few common ones are jacket lapels, shirt collars/cuffs, and skinny jeans.
Jacket Lapels
Lapels come in a lot of styles and sizes. It's the oversized lapels that aren't a short man's friend. They again can make you look wider or like you're being swallowed by your jacket. Thin lapels are more common anyway and will keep things proportional.
Shirt Collars/Cuffs
Oversized collars and cuffs, aside from making you look like an old-timey banker, throw of the details and fit of your shirt. Stick to slimmer and low-profile ones.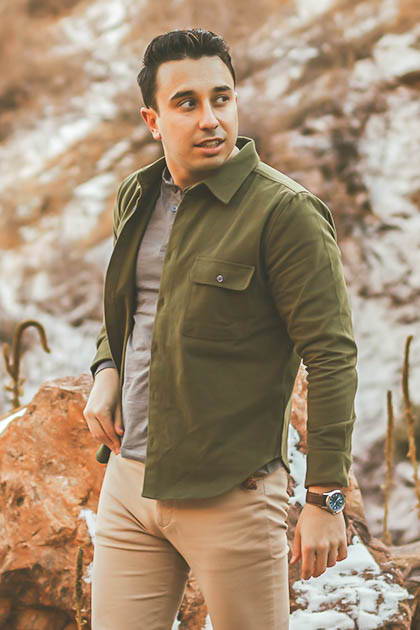 Our shirts have scaled down collars, lengths, and sleeves so they look right on shorter dudes
Skinny Jeans
Now, there's nothing wrong with skinny jeans, but you do need to pay attention to how they fit on you. Going too skinny can make you look top-heavy and more like an ice cream cone than a short guy who's confident in what he's wearing. Ideally, you want your jeans to have room where you need it, in your waist and thighs, with a taper from the knee to the ankle. That will give you that appealing upside-down triangle mentioned earlier.
These kinds of details on your garments have a huge effect on how they fit and look on you. If you pay attention to proportions in this way, you'll avoid looking short in your clothes.
10. Choose Appropriate Accessories
Accessories play a big role in how tall you appear in your clothes as well. For example, large watches that are too big for your wrists or big bracelet stacks can make your wrists look smaller.
This reiterates the idea idea that overly large pieces, whether clothes or accessories, can swallow you up and make you look shorter. Instead, adjust the size of your accessories and stick to simple, modestly sized pieces that complement the size of your build/stature.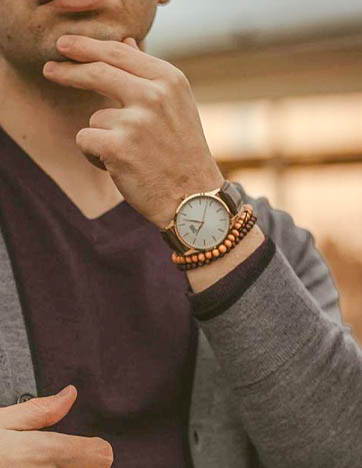 Smaller accessories keep things proportional for shorter guys
11. Choose Shoes with a Boost

Listen, it's okay to get a boost on height now and then, even if it may be cheating a bit! We know that elevator shoes are an option but let's be real, they can sometimes be too obvious when wearing. For example, being around co-workers that know your height all too well will notice if you're suddenly 3 inches taller. Additionally, you'll be quite limited in terms of styles when it comes to buying elevator shoes.
But there are smart footwear choices you can make to increase your height without compromising style. Right now, most clean looking sneakers (think Common Projects or Greats Brand) are low profile, which means they have a slim sole that sits close to the ground. Low profile shoes are good looking, but don't give any boost in height. Instead, you can opt for sneakers that have a bit of a raised sole, like the Nike Air Force 1's or Adidas Superstars. These sneakers have natural lift while also having a mass-appealing look that doesn't overtly look like you're trying to add an inch or two.
Now that the weather has cooled off, even better in our opinion than higher soled sneakers, is to try boots! Similar to the sneaker styles we mentioned, boots always have a natural heel and chunky sole. Thus, boots give you some much needed lift while again looking natural and stylish. Just make sure you get a good-looking pair of boots that look sleek and versatile with a lot of outfits.
So these higher soled sneakers and boots are great for us short guys who need help in the height department.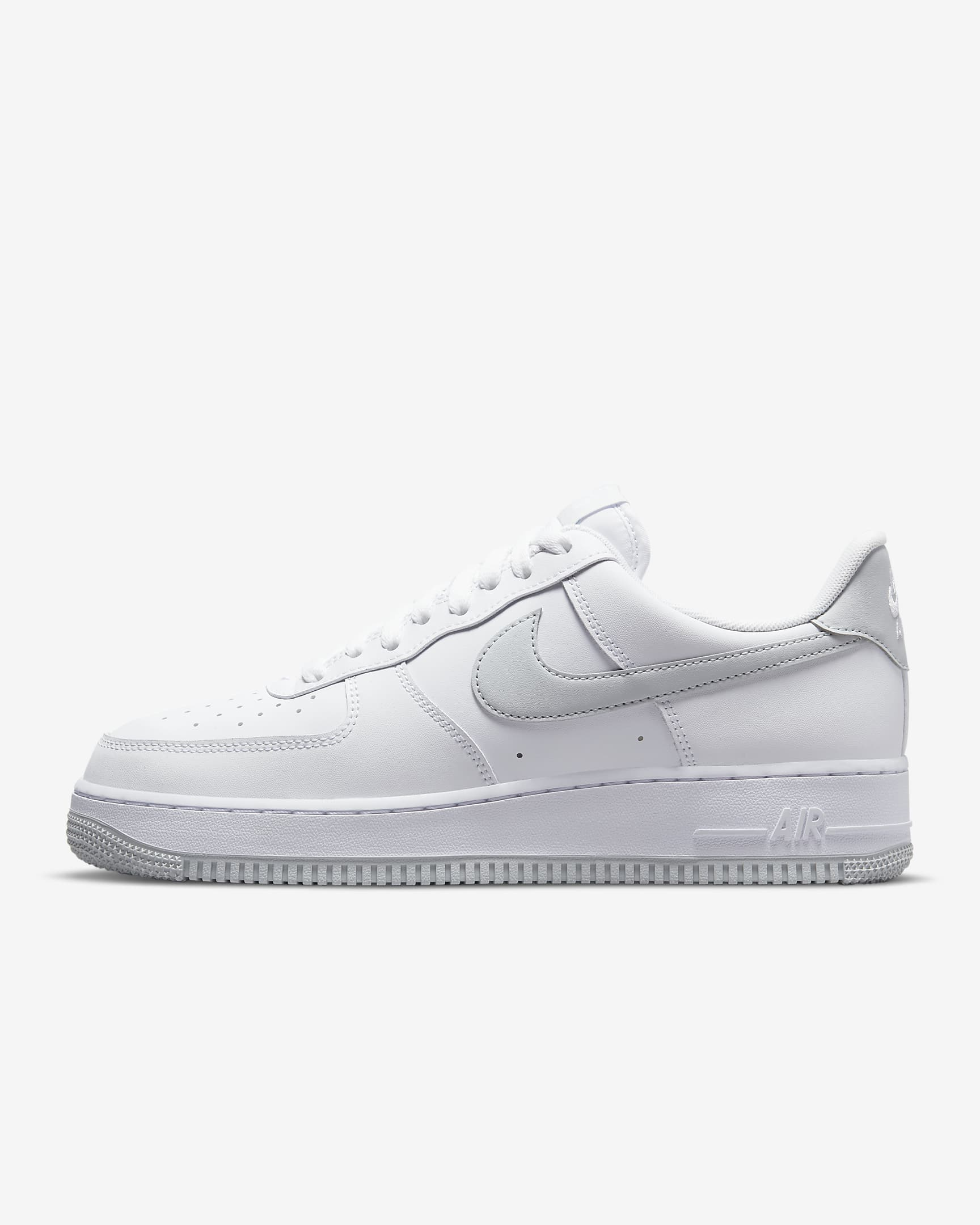 Nike Air Force 1 has a raised sole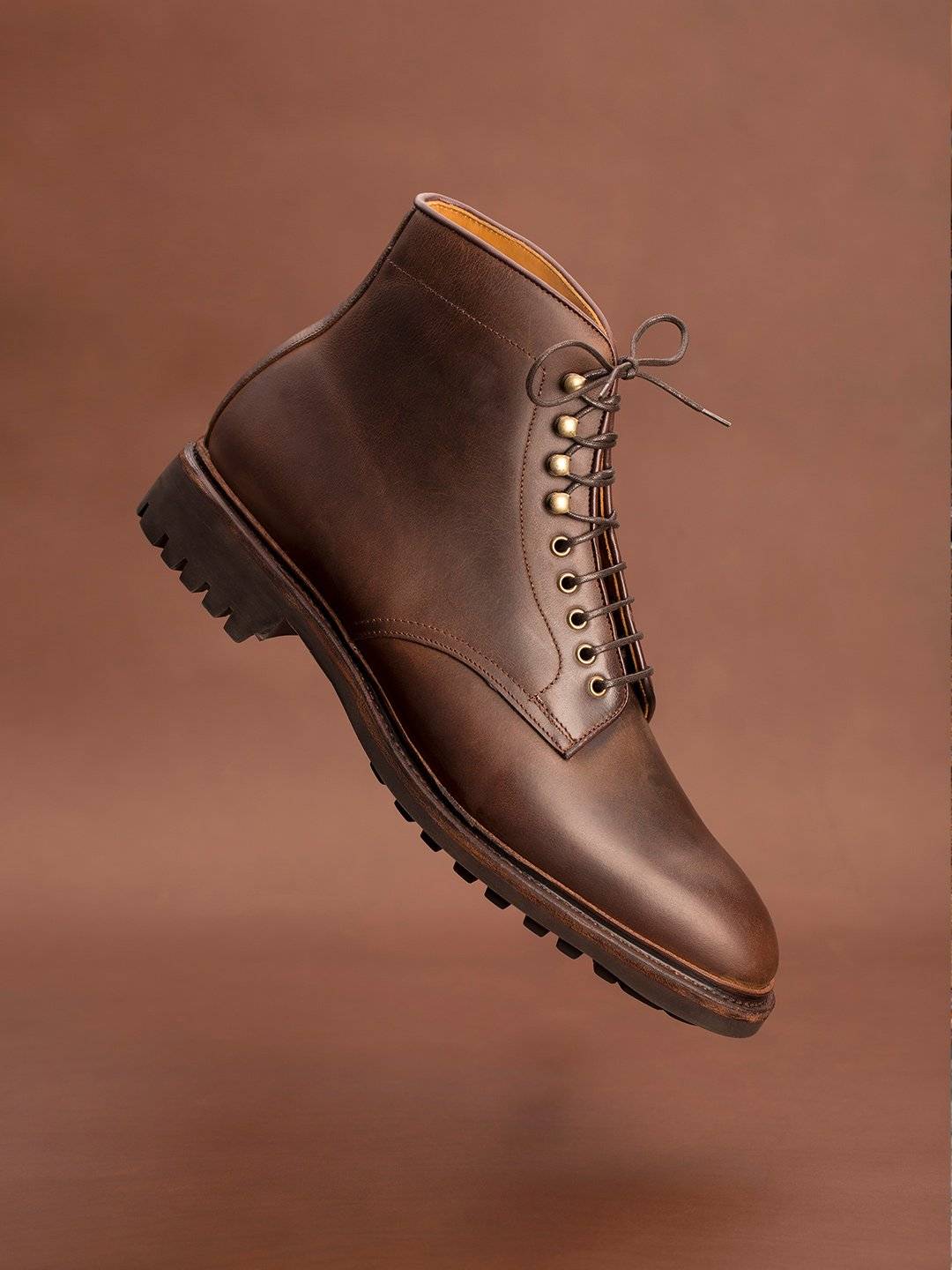 Meermin Service Boots are sleek but add some height
The last tip is my personal favorite because you don't have to spend money or make any drastic changes. Plus, its something we all can accomplish. It is to literally walk taller in your clothes - improving your posture! Slouching never helped anyone and in this case will only make you look shorter. Most of us sit at computers for most of the day, and it's not a surprise that most of us also have posture issues. It's not easy to do but with the help of a few simple exercises, improving your posture is possible.
For shorter guys, the general goal is to keep your shoulders back and chest out. Squeeze your shoulder blades and it should give you a little help. For more information on how to improve posture, see YouTube videos like this one. When your neck is angled forward instead of being in line with your spine, you lose a few inches on your perceived height. You may be surprised to see how much taller you can stand simply by standing up straighter.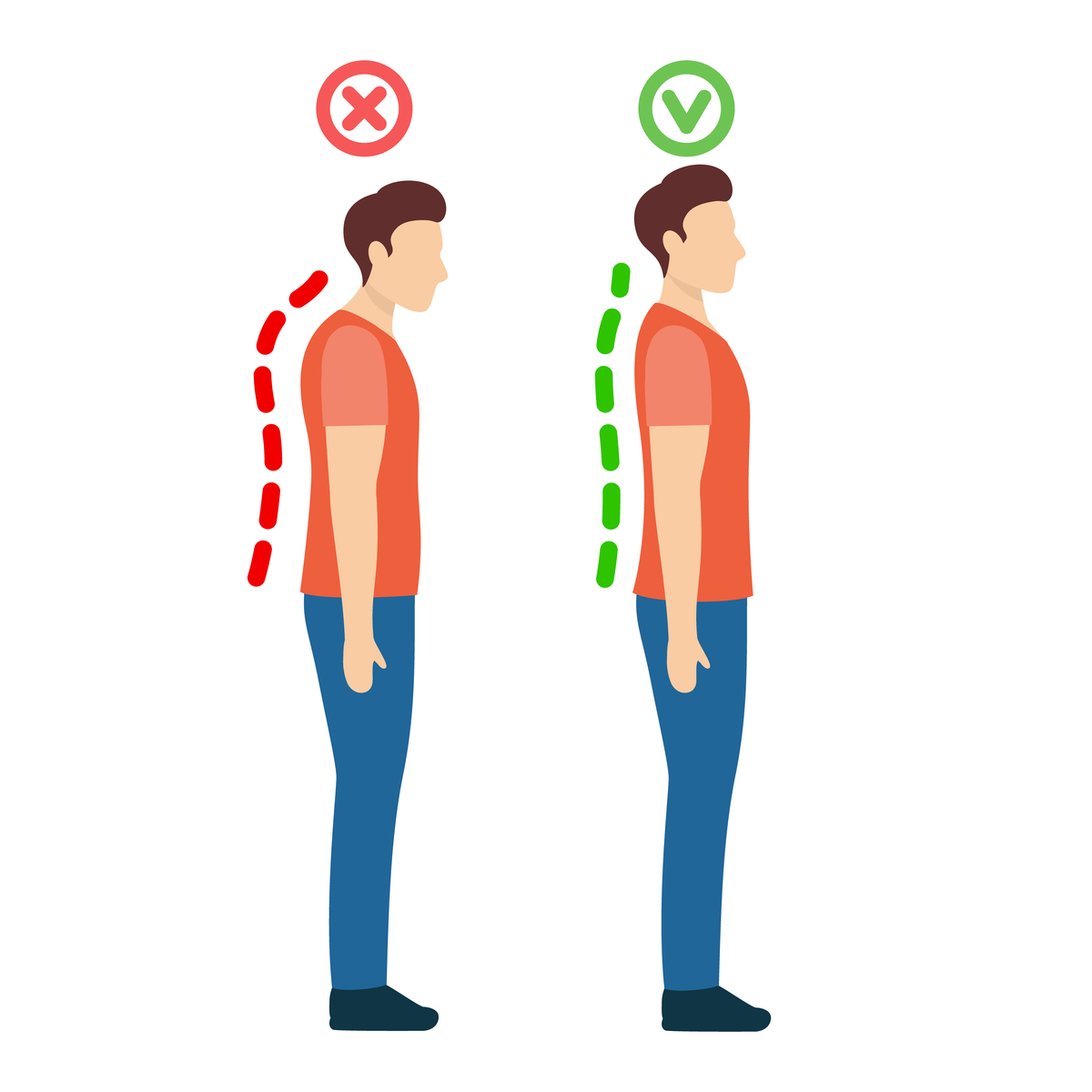 Better posture will absolutely increase your height naturally.
---
Conclusion
Looking taller in your clothes is mostly about finding pieces that fit and carrying yourself well in them. While there's no one way that clothes should fit shorter men, we hope these tips give you a good place to start.
If you are looking for clothes made specifically for shorter men, shop our site, Under 5'10. For more sizing information and help figuring out your own sizes, check out our Sizing Guide.  
Leave a comment