Proper Fitting Shorts for Short Men
Proper Fitting Shorts for Short Men
Despite coming in many different lengths, short guys still have need for shorts made specifically for men. Here's why:
At Under 510, our clothes are made to fit shorter guys perfectly. Short guys can't get pants like chinos, jeans, joggers, and performance bottoms in inseams that fit them properly. Making shorter pants is relatively simple; we make pants in short inseams from 25"-28" with the right proportions in the waist and thighs and a slimming taper from the knee down.
But as the summer rolls around, guys need bottoms that are suited for even the warmest and most humid of climates. Sure, you can wear jeans in 80-degree weather, but what about for those scorching days that pants are just unbearable? Well naturally, guys need a reliable pair of shorts to whip out when nothing else will do! The question is, do short guys have trouble finding shorts that fit properly?
We found that the answer is undoubtedly yes! Despite coming in a number of different lengths and fabrics, shorts are trickier to get to fit right than one might think. There are a few fit points that are crucial for a pair of shorts on a short man. Those include the length, taper, and fabric weight. Shorts can make short guys look taller, slimmer, and more toned. But shorts can also make us look shorter and stumpier if they don't fit correctly. Let's go through these 4 fit factors to find out why our shorts are engineered to fit shorter men like nothing else will!
4 Keys to Getting Men's Shorts to Fit Properly
Inseam Length

Taper

Rise

Fabric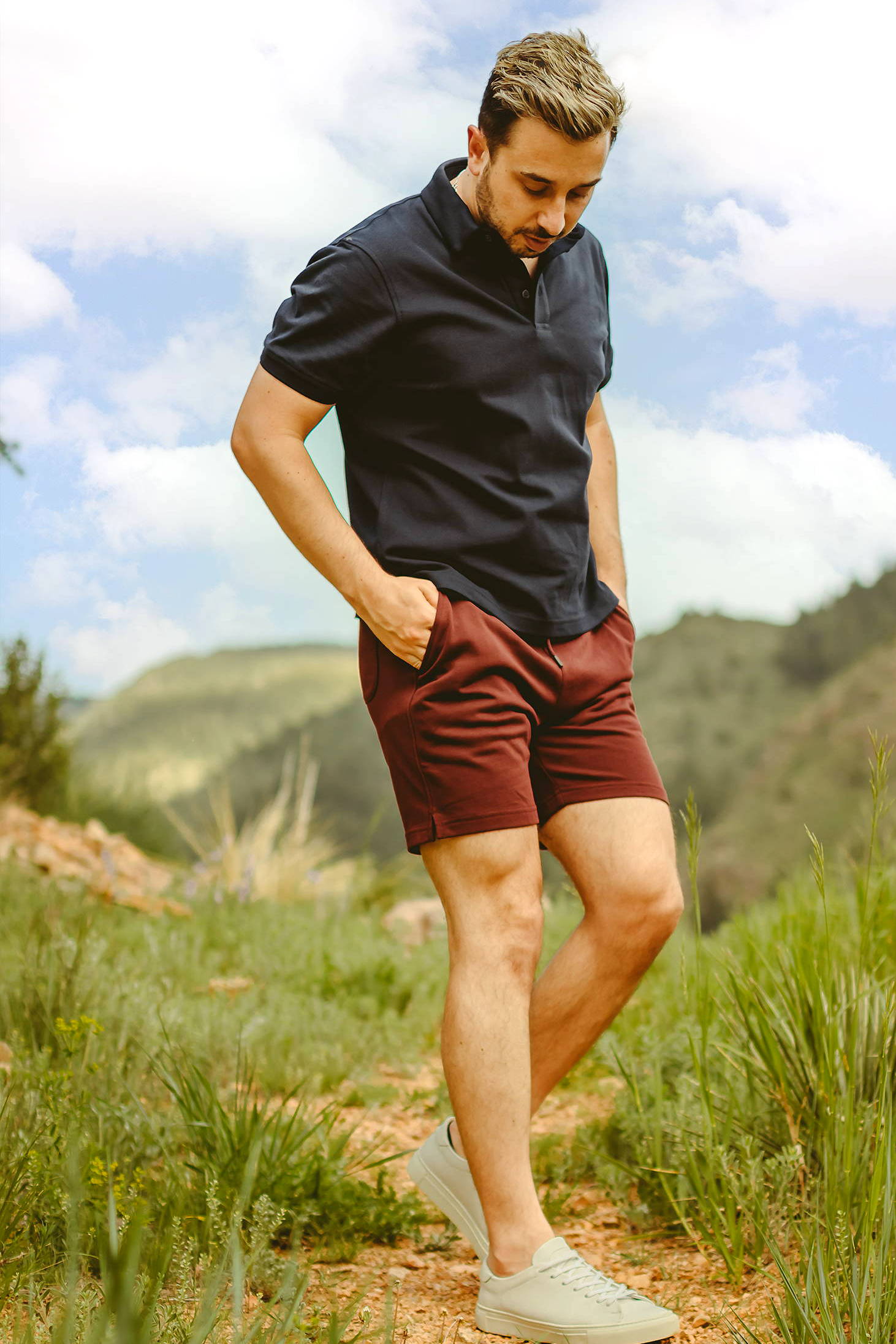 So shorts come in many different inseam lengths from most major retailers. You can find 9" shorts, 7" shorts, and 5" shorts commonly. Shorts that are 9" usually hit just below the knee, 7" shorts slightly above the knee, and 5" well above the knee. But the important thing to remember is that 9" shorts that are meant to hit just below the knee end up well below the knee on shorter men under 5 foot 10 inches tall. Shorts that are 7" long are definitely closer to being the right fit for short men. Shorts that are 5" long are very short even for guys that are below average height and a lot of men will shy away from showing that much leg.
Thus, somewhere between 5" and 7" inches are optimal for shorter guys because they are short enough to hit above the knee but not too short that they look like trunks. Our french terry shorts for short men are precisely for a 6" inch inseam for this exact reason. The big difference for our shorts is that perfect length that is almost impossible to find from most retailers.
One of our biggest motivators for making shorts was that most men wouldn't even know which length to buy for themselves even if given all of the aforementioned options. We've found that guys generally don't want to go through the lengthy process of trying to decipher which sizes and lengths work best for them (this can cause us problems when guys try our jeans and pants for the first time). Thus, we wanted to take all of the guesswork out of having men figure out themselves which size is best for them. Just trust us, these are going to look great on you!
Now that we've discussed the optimal length for shorts, it's crucial that we talk about the fit of the shorts - specifically the taper of the leg. Shorts are normally quite literally, pants that are cut short! The pant is basically just chopped off at the thigh and voila!
But there is a big flaw with the fit of shorts made in this way, especially if you're a shorter guy. That is, shorts need to have a slight taper - the inseam should get narrower as it reaches the hem. But most shorts do not have any taper whatsoever! The legs end up parachuting outwardly resulting in a very wide silhouette. For short men, this is a big no-no, We need clothing that will give us a more streamlined look, that makes us look leaner and taller. Thus, our shorts have a tapered leg that follows the natural slimming of a leg from the thighs to the knees. The shorts aren't restricting but fit close to the body.
One of the more obscure measurements that is crucial for getting the right fit on all bottoms, is the rise. It's the distance between the bottom of the crotch and the top of the waistband. Rise basically represents where the pants sit on your waist. Think about how some guys wear their pants really low; they would want a low-rise pant so it sits below the natural waist at the hip. However some guys wear their pants higher, close to the navel. Since they are wearing their pants high on the waist, they would want a high-rise pair of pants.
Now, for the average guy out there, you can play around with rise to manipulate your silhouette and more specifically, your perceived proportions. Because high-rise sits higher on the waist, it makes your legs look longer and your torso look shorter. This is a particularly flattering look on women, which is why high-rise jeans are more popular amongst the ladies. Low rise will do the opposite; it will make your torso look longer, and your legs look shorter.
As short men, we need to be extra careful when picking out the right pant's rise because any distortions in our perceived height can accentuate our vertical challenges. That's why our shorts were designed with the perfect mid rise - to balance your proportions and to make you look your best. We're not trying to hide our height from anyone; our stature makes us who we are! But we definitely want to communicate through our sense of style that we know how to dress properly.
The final element of making the perfect pair of shorts for short men is the fabric being used. Believe it or not, shorts can be extremely uncomfortable if the fabric isn't right. Some twills used in chino shorts can be stiff and inflexible. Other fabrics like synthetic/athletic fabrics can be light and stretchy but a bit too revealing. Plus, athletic fabrics can be difficult to wear casually outside of the gym. The fabric determines the comfort, look, fit, and style of your outfit. Ideally, the fabric that comprises your shorts should be versatile, comfortable, and stylish. Our french terry shorts are made from 100% cotton and are a perfect mid weight. The waistband is elastic so it expands easily when you need it to. You can wear them with your favorite tee, or a polo shirt and take them to the gym, boardwalk, or bar.
Shorts are not as easy to fit for short men as one may think. Despite the fact that many retailers have shorts in various lengths, there are still four main factors that make shorts complicated for short men. We've taken the guesswork out of all of it - our length is perfectly placed at roughly 6" inches, with a slight taper, proper mid-rise, and comfortable fabric. Needless to say, with our shorts or short men, you'll finally get something that fits perfectly without the hassle! As we grow, we are going to continue to add more fabrics and styles into our shorts collection, so make sure you are signed up for email and text alerts so you are the first to know when new products arrive.
Leave a comment